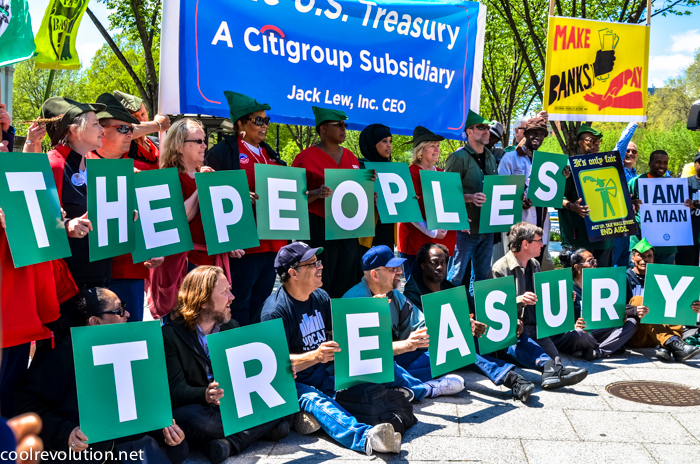 by John Zangas
More than 140 organizations, including labor unions, healthcare advocates, environmentalists and consumer groups, rallied in Washington D.C. on Saturday, April 20 in support of legislation to tax Wall Street financial transactions. Supporters of the Inclusive Prosperity Tax wore Robin Hood costumes to dramatize the so-called "Robin Hood Tax." Members of sponsoring organizations, including National Nurses United, Amalgamated Transit Union, and National Peoples Action, gathered at Farragut Square before marching to the U.S. Treasury building.
"It's a tax that many countries already have," said Jean Ross, co-president of National Nurses United, the Registered Nurses' union with over 185,000 members. She said that revenue collected from the tax, which she estimated at up to $340 billion a year, would go toward funding "all the things this country is talking about cutting left and right," such as Medicare, healthcare, and housing.
"Our patients are skipping medication to buy food," she said. The Inclusive Prosperity Act, introduced by Rep. Keith Ellison, is called the Robin Hood Tax because, as proponents argue, "The bankers, brokers and the wealthy who have benefited most from this economy will pay the tax." Fifty percent of investments in the U.S., such as stocks and bonds, are owned by the wealthiest one percent of the population.
In spite of the financial collapse for which it was responsible, Wall Street profits soared 720% from 2007 to 2009, while American home equity collapsed by 35%. Levying a small tax–between .005 and .5%–on stock, bond and derivative transactions, they say, should reverse the trend toward austerity measures, which they see as hurting ordinary people.
"We've been watching the fallout from the poor economy, and we're seeing people getting sicker. Even with insurance, deductibles cost too much, so they're not taking care of themselves," said Karen Higgins of National Nurses United.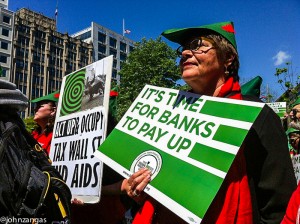 Lawrence Hanley, president of the Amalgamated Transport Union (ATU), agreed. "All across the country there are cuts being made in transit," he said. "The tax is reasonable and fair. England has had it for 300 years, and it hasn't hurt them."
But opponents of the bill, like David Cameron, Associate Director of the Tax Program at Northwestern Law School, say that Britain's "stamp tax" is not equivalent to the proposed financial transaction tax in the U.S. Others, such as Ryan Ellis of the conservative Americans for Tax Reform, warns that the tax would take away from workers' wages. "A tax on capital is ultimately a tax on labor," he said.
The approximately thousand people decked out in Robin Hood attire on Saturday, however, see the government under the sway of Wall Street. Gathered at the U.S. Treasury building, they dubbed it a "Citigroup Subsidiary," referring to Treasury Secretary Jack Lew's former job at the financial institution.
They delivered boxes filled with faux dollars and labeled "Medicare for All," "End Global AIDS/HIV," "Retirement Security," "Quality Education," and "Reverse Climate Change," to the White House–or as close as they could get with security measures in place following this week's events in Boston.
In spite of the Robin Hood analogy, proponents don't regard the tax as stealing from the rich. Rosa Pavanelli, leader of the global union federation, Public Services International, expressed it in terms of fairness. "It is time for bankers to pay their fair share and for the 99% to collect our fair share," she said.