By John Zangas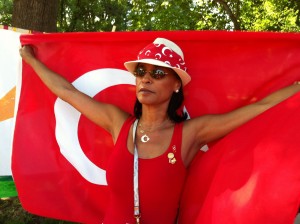 Police executed a predawn raid on Tuesday in Istanbul, cracking down on protesters in Takism Square, who have been seeking government reform in Turkey. There were reports in the Guardian of a "sense of a final showdown" after thousands rallied once again there on early Wednesday morning.

There have been violent clashes between protesters and police all across Turkey for two weeks resulting in four deaths and over 5,000 injuries.
Police deployed tear gas, flash bang grenades and water cannons, but protesters fought back with cat-and-mouse tactics. They repeatedly returned to Gezi and Takism parks, challenging police, only to be chased away again. Prime Minister Recip Tayyip Erdogan and his AKP party appear to be losing the confidence of the Turkish people.
Meanwhile, Turkish-American activists organized a colorful solidarity rally at the White House Saturday, virtually in step with the protests in Turkey. They held signs, sang songs, and told of their dream for a country free from repression. Waving a giant Turkish flag they sang to the rhythm of popular. Turkish music and displayed signs with catch phrases like "Resistanbul,"  "Chemical Tayyip," "OccupyGezi," and "Stop the Injustice."  They spoke of the ongoing protests of people at home, struggling for a democratic voice and relief from ongoing police brutality at protests across Turkey.
A sign depicting a "woman in a red dress" being sprayed with tear gas by police was a popular theatrical prop. The sign was open at the head to enable anyone to assume her role. Its significance came from a Reuters photograph taken at Gezi park of Ceyda Sungur, an academic, who was sprayed with tear gas by police. It has come to symbolize defiance against the government of Turkey.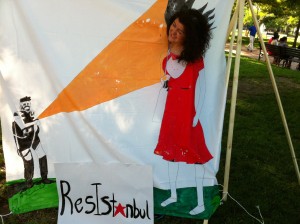 During the rally, word came from Istanbul of another predawn police attack in Gezi Park, adjacent to Takism Square, in the center of Istanbul. Protests began there last week when several hundred environmentalists rallied against Prime Minister Erdogan's plan to cut down trees and build a shopping mall.  Thousands of frustrated Turks reacted to the police violence by joining in the protest and decrying the lack of freedom under Erdogan. Recent measures enacted by the Prime Minister include restrictions on alcohol and public displays of affection.
Organizer and activist Yurter Ozcan said this is not about politics, it's about democracy for all Turkish people. "We want to have a democratic country where the media is not censored. We want our voices heard. We don't want to be punished for it." Ozcan hopes for a free society for all people. "The prime minister is trying to polarize the country, he's trying to put up his own supporters."
Deniz Cil, a doctorate student from Turkey, explained how the initial protest exploded. "Police used tear gas against the people in Turkey, and it caused a reaction against the government which had been boiling a long time." She says she wants a democracy where people are free to challenge their government's decisions. She believes the issues go beyond keeping Gezi Park open to the public. "The park was the first issue but it's mainly about democracy.  And when we do something peaceful, we want to be able to do it just like we are doing in the U.S.," she said.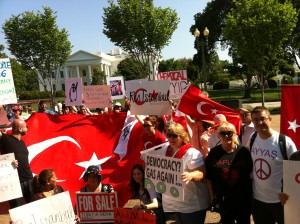 Jenna Pope, a photo journalist reporting from Istanbul, wrote on Facebook that she's seen water cannons, tear gas and flash-bangs. "I just wanna say: the sound of the water cannon trucks as they drive forward is eerie, and tear gas sucks. I don't mind the flash-bangs though," she joked. Followers on Facebook wrote that they hoped she would "be safe," but thanked her for bravely reporting events as they unfold.
Cil says the activists are relying on Twitter and foreign journalists like Pope for their news, since Turkish media has been largely ignoring the protests. "We are tweeting. The media isn't the place where you can get the news. The media failed to cover the news for four days."
During the rally at the White House, news came via Twitter of a police attack against people in Ankara. Ozcan said, "We are with the people of Turkey. Even though we are oceans apart, we will be with them."
Turkish-Americans plan to rally at the White House again on each Saturday afternoon, "until we get our much deserved freedom," said Ozcan.