By John Zangas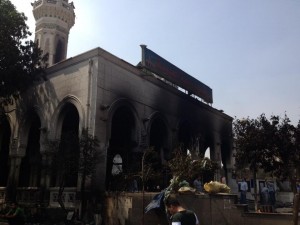 Early Wednesday morning in Cairo clashes erupted between pro-Morsi protestors of the Muslim Brotherhood and Egyptian Army security forces. Hundreds haven been reportedly killed, including two notable press personalities who died while reporting on the security force crackdown.
Mick Deane, 61, a Sky News cameraman for 15 years, was killed in Cairo as he recorded the wave of security forces attacking protestors.
Ahmed Abd Elaziz, 22, a noted journalist for Dubai Paper, was also shot and killed.
Mohamed Soltan, an Egyptian-American, was tweeting accounts live from the stage at Rabaa Mosque while both press and protestors came under attack. The photos he tweeted depicted a massacre unfolding on the stage outside Rabaa mosque. He was shot in the leg and reported that several photojournalist and cameramen were also shot too.
Since July, Rabaa Mosque has been the scene of extended protests against the July 3 removal of President Mohammad Morsi, which supporters claim was a military coup.
Sky News Newsdesk reported on its Twitter feed, "Egypt violence is not a crowd clearing operation, it is a major assault largely on unarmed civilians."
Guardian News reported that hundreds were killed in the day-long "major assault" across Egypt. Social media reports said there were thousands of injuries. This followed a report that 43 security forces were killed earlier in the day.
The numbers of protestors killed or injured couldn't be independently verified.
As Wednesday night fell on Cairo, Army leadership announced a 7 PM to 6 AM curfew and a month-long state of emergency.
Tim Eastman tweeted, "#Cairo is usually hopping all night, it's 6:40pm and a ghost town right now."
He also tweeted, "#Egypt state of emergency has been declared, 7pm curfew, military empowered to make arrests, media can be censored."
Meanwhile Deputy White House Press Secretary Josh Earnest spoke at a press conference from Martha's Vineyard today, saying, "The United States is not issuing any "ultimatum," but wants to see tangible evidence that Egypt's interim government is making good on its promise to promptly transition to a democratically-elected civilian government."
The US contributes $1.5 billion annually in economic and military aid to Egypt. Since the removal of democratically elected president Mohammad Morsi, the US has not made a determination to stop Egyptian aid, as is required by for countries that have had governments toppled by coup.
As the day wore on and clashes continued, it became clear that the spirited Arab Spring which swept Egypt in 2011, with a hope for freedom and a new democratic government, had come to a violent end.