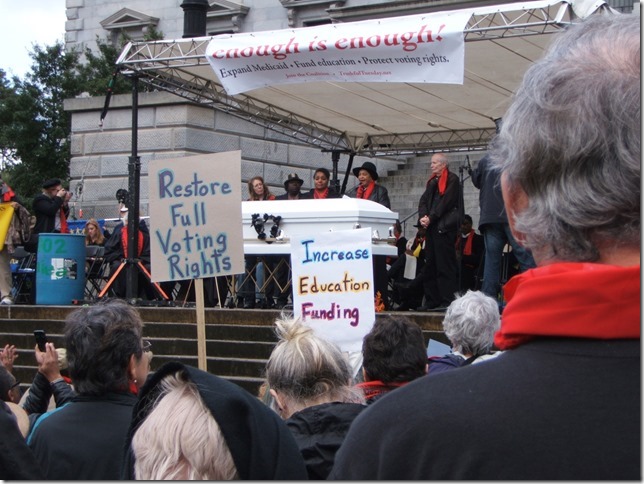 By Wade Fulmer
On the first day of the 2014 legislative session, South Carolinians arrived in Columbia with energy and determination to hold the first "Enough Is Enough, Truthful Tuesday" rally at the State House. More than 600 citizens and community and group leaders, joined by a few legislators, made their presence and demands known to the reconvening legislature. Voices rang out for healthcare, social and civil rights, and the needs of South Carolina's oppressed and down-and-out.
Among statues of elitist and racist politicians, such as Ben Tillman and Strom Thurmond, and below the State House confederate flag, they delivered a clear message: the status quo, decades-long conservative agenda carried out by Republican and other lawmakers must no longer suppress, oppress and neglect the peoples' needs and rights.
Demands focused on the state's lack of healthcare for its most needy, the denial of Medicaid expansion, the underfunding of education across the state–not only in its "corridor of shame"–and assault on voting rights.
The crowd respectfully and enthusiastically raised signs expressing their outrage and demands while wearing red scarfs emblazoned with "Enough is Enough." Inside, the legislature convened to continue its efforts to nullify and outlaw the Affordable Care Act, which is law according to the U.S. Supreme Court. A coffin was placed before the rally podium to represent the 1,400 people whom organizers say will die this year because South Carolina refused federal dollars to expand Medicaid.
The state's neglect of education has furthered inequality and cut off opportunities for better jobs by adhering to "minimally adequate" standards. K-12 funding in 2013 was nearly $500 million below the requirements of law. Funding for higher education is lower than it was ten years ago. Even though some colleges have chosen to lower tuition, college costs remain among the nation's highest. While there is no shortage of high-pay positions and raises for heads and multi-level managers of various state agencies, service workers and caregivers are in short supply and inadequately paid.
South Carolina has persistently assaulted voting rights by excluding some citizens while assuring partisan incumbencies. Decades of gerrymandering have eroded the credibility of voting results. In seeking unjustified voter ID requirements, the partisan legislature reveals its mission to suppress democracy. Scandalous electronic voting machines have no paper back-up.
The people of South Carolina spoke out strongly today. They have clearly called upon the state's political partisans to represent the people and their needs, not the elite's. Political contributors have benefited far too long from regressive, greedy policies. There is no longer room at the State House inn for legislators who fail to serve South Carolina's citizens and provide opportunities for their children's futures. South Carolinians will continue to express their hopes and priorities to legislators in future Truthful Tuesday rallies.
This slideshow requires JavaScript.