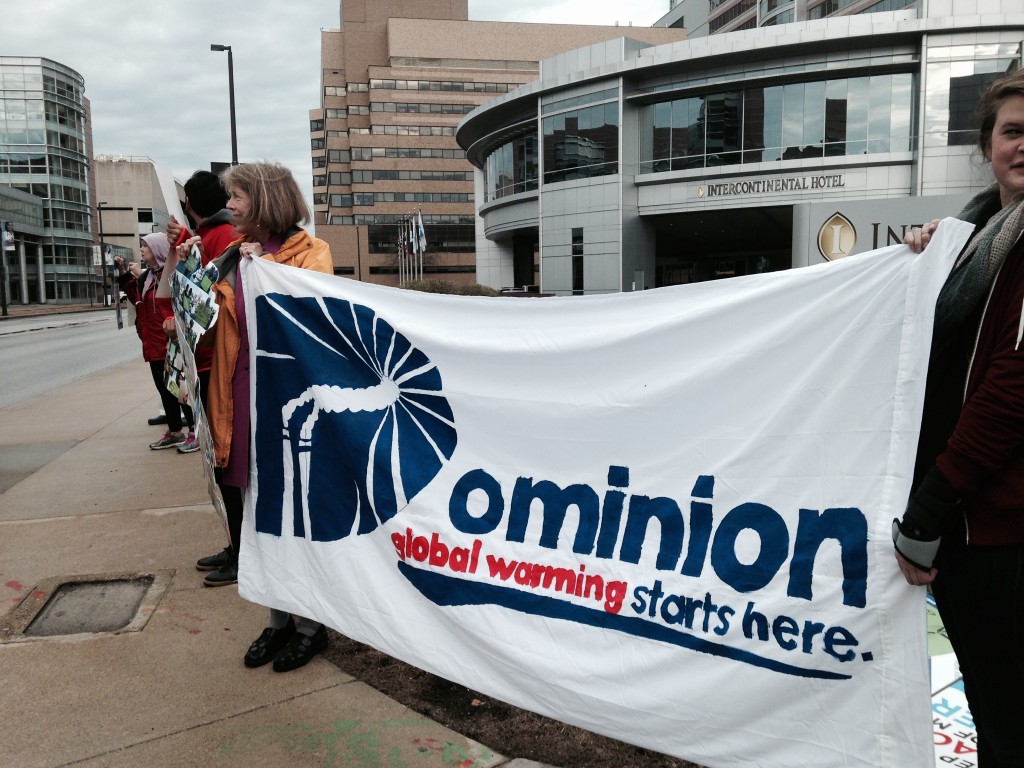 Dominion Resources convened its annual shareholder meeting on May 7 in Cleveland, Ohio amidst controversy surrounding its plans to build a liquefied natural gas (LNG) export terminal in southern Maryland. Protestors from Maryland, Virginia and Ohio environmental groups gathered outside the meeting to demonstrate against the Cove Point plant. They believe LNG export from Cove Point will incentivize fracking in the region and lead to greater greenhouse gas emissions.
Dominion also has to contend with a complaint filed with the Securities and Exchange Commission (SEC) on May 6, claiming that it has been deceptive about the environmental and financial risks associated with the Cove Point terminal. Several environmental groups and a single shareholder sent a letter to the SEC citing significant financial and environmental risks associated with the project.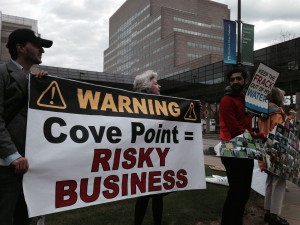 In March, Dominion spun off Cove Point LNG and the Blue Racer Midstream joint venture into a master limited partnership (MLP) called Dominion Midstream. MLPs are investment vehicles established specifically for mining and natural resource companies. They are exempted from paying corporate income tax. Dominion aims to raise $400 million in a public offering on the New York Stock Exchange.
The total cost of developing Cove Point by adding a full-scale power plant and a liquefaction train to super-cool natural gas for transport is about $3.8 billion.
The complaint to the SEC claims that Dominion isn't telling potential investors everything they need to know. It points to information withheld in Dominion's application to the SEC or how Dominion has failed to adequately assess risks. They include significant delays in acquiring permits, potential cost overruns, impacts from climate change, and safety hazards.
Regulatory hurdles and litigation have already set the start of construction back at least six months. A Dominion executive disclosed the delay in a quarterly conference call but not in the SEC filing. Dominion has also resisted having a comprehensive Environmental Impact Statement for Cove Point, which might reveal impacts on operations in a facility located in an environmentally sensitive area.
Locating an LNG facility in a residential neighborhood of 360 homes is unprecedented. Local residents have accused Dominion of stonewalling when they have requested more information about their safety concerns. Documents from their research revealed that a 60-foot-tall wall which Dominion had been calling a "sound barrier" is also intended to contain a vapor cloud in the event of an explosion. The town's assistant fire chief resigned in protest, saying that the department would be unequipped to handle a catastrophe at the plant.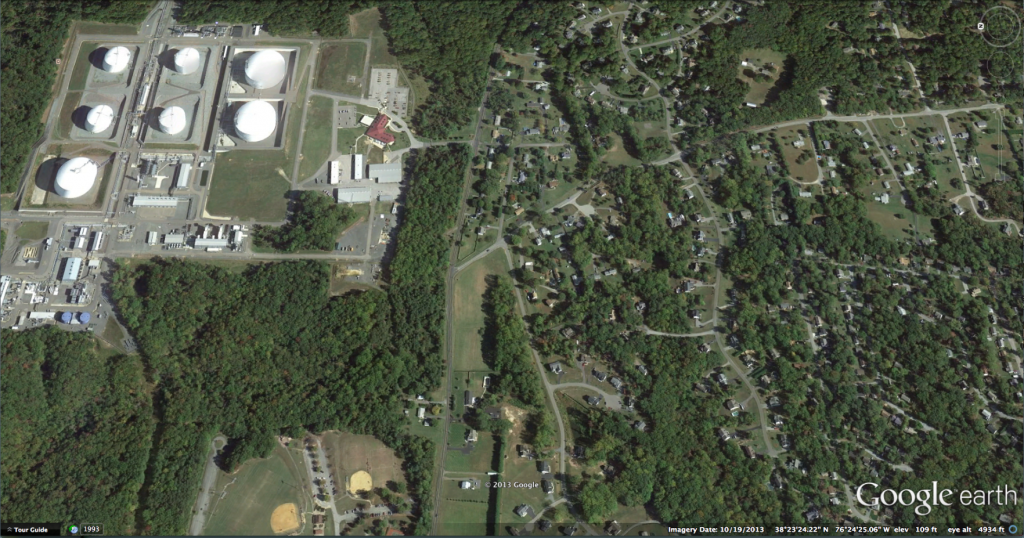 If Dominion wanted to downplay the dangers associated with liquefying natural gas, it couldn't have chosen a worse city to host its shareholder meeting. Seventy years ago, LNG caused the worst disaster in Cleveland history. An explosion at the East Ohio Gas Co. plant—now Dominion East Ohio–leveled the Grdina neighborhood in Cleveland:
[O]n Oct. 20, 1944, a spark ignited gas vapor seeping from one of the tanks, unleashing a fiery explosion. Homes along 61st and 62nd streets burst into flames, trapping residents. The gas flowed into the sewer system, launching manhole covers, bursting pavement, rushing into basements. Numerous blasts and waves of blistering heat shattered windows miles away. Telephone poles smoked and bent, grass caught fire, walls turned red, people's shoes felt as if they were melting.

The East Ohio Gas Co. disaster left 131 people dead and hundreds injured. It destroyed a square mile of Cleveland's east side, including 79 homes, two factories, 217 cars, seven trailers and a tractor. Nearly half the victims, including 21 [were] never identified… After the disaster, public utilities started storing natural gas underground, in depleted wells, rather than as potential bombs in aboveground tanks.
Executive compensation packages are often considered at shareholder meetings. In addition to their salaries, some top executives at Dominion possess stock worth millions:
Thomas Farrell, Chairman and CEO: $69 million
Mark McGettrick, Executive Vice President and Chief Financial Officer: $20.3 million
David Christian, Executive Vice President and Chief Executive Officer–Dominion Generation Group: $9.3 million
Paul Koonce, Executive Vice President and Chief Executive Officer–Energy Infrastructure Group: $9.7 million
Diane Leopold, President of Dominion Energy: $2.9 million
Shareholders at the meeting voted on four resolutions related to climate change, including one to generate a report on the risks posed to Dominion by climate change. All the resolutions failed to pass but still managed to garner about 20% of the vote.