Washington, D.C.,- Environmental advocates used their bodies to block the entrances of the Federal Energy Regulatory Commission (FERC) Monday and called for an end of the so-called rubber stamp polices of the agency that regulates interstate natural gas pipelines and gas compression stations.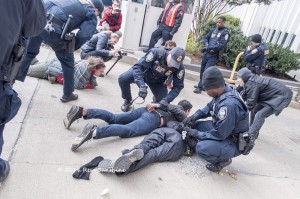 The Department of Homeland Security (DHS) dispatched dozens of uniformed officers to manage the crowd, but for over an hour were unable to remove the hundreds of protesters. There were 25 arrests and no reports of injuries.
Protesters assembled into three groups, spreading themselves between several entrances at the agency. They set up a colorful mock cardboard village, erected 15 foot signs and locked and chained themselves in concrete buckets. One of the protest groups blocked the entrance of  FERC's driveway, tying up traffic.
Later that afternoon, about fifty of the remaining protesters walked to the Democratic National Committee Headquarters where they spoke about political contributions from the fossil fuel lobby.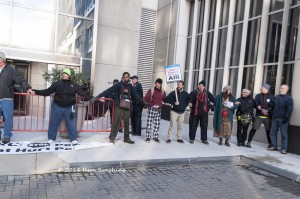 Kevin Zeese, an organizer from Popular Resistance said, "The message we're trying to make today is FERC is destroying families, and towns and that's why we're shutting them down."
The protests today were the first of many planned for this week as environmental advocates plan to highlight the urgent need to convert energy sources from carbon to renewable based.
All 25 protesters arrested at the FERC protest were released with misdemeanor charges of obstruction, according to co-organizer Jimmy Betts. "Todays action was highly successful in causing a disruption with business as usual at FERC," he said.