Following up on their promise to ensure that no 2016 presidential candidate should be able to run without a real plan on how black people will survive and thrive after their initial disruption of the Presidential Town Hall at Netroots, members of Black Lives Matter took aim at Hillary Clinton last night at a scheduled event in New Hampshire.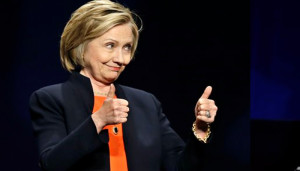 Making no secret of their intentions, the Boston chapter of the Black Lives Matter movement shared their plans and a list of talking points they intended to address with Clinton, hours before the event with a reporter from The New Republic.  Within minutes of them publishing the article, which was seen by both the Secret Service as well as Clinton campaign advisors, her staff reached out the BLM activists to avoid any of the bad press which has dogged her Democratic primary rivals Martin O'Malley and Bernie Sanders.
Huge thanks to everyone tweeting about #HollupHillary action. We've gotten the attention of @HillaryClinton's staff & they are working w us.

— BlackLivesMatterBOS (@BLM_Boston) August 11, 2015

While many journalists and news organizations spent the next few hours deriding the Clinton campaign for "locking the activists out of the event," they were escorted by Clinton staffers to an overflow room to watch her appearance and patiently waited till after the event before being ushered into a private meeting with the presidential hopeful.
We were approached by @HillaryClinton's staff & offered an opportunity to ask the questions we planned to ask in the forum #HollupHillary

— BlackLivesMatterBOS (@BLM_Boston) August 12, 2015
There were conflicting reports about what happened next. Dan Merica of CNN, who was with the media pool covering the event, reported that the Black Lives Matter contingency asked for a closed door meeting without any press present:
Nick Merrill, Clinton's spokesman, now tells the pool that the #BlackLivesMatter protestors have asked media not be let into the meeting.

— Dan Merica (@danmericaCNN) August 11, 2015
The twitter feed from Black Lives Matter Boston responded by saying they made no such request:
To clarify, we made no requests re: media nor were we asked if media could be present for our conversation w @HillaryClinton #HollupHillary

— BlackLivesMatterBOS (@BLM_Boston) August 12, 2015
After meeting with Clinton behind closed doors for about 15 minutes, Black Lives Matter Boston founder Daunasia Yancey, and Julius Jones, founder of the Black Lives Matter chapter in Worcester described a somewhat "Hillaryesque" conversation where Clinton had very little new to offer beyond her previously well scripted statements and press releases regarding the Black Lives Matter movement and the plight of young black Americans at the hands of police and the criminal justice system.
Jones stated "We were going in there with the understanding that we were combating systems, but we're also encountering a person with a higher level of responsibility for the way that the systems are today than most anyone in the presidential race," Jones said. "We went in there with that understanding, and chose to press her on her personal involvement and her personal feelings about her involvement, and what she was going to do to change it, given her husband's history of perpetuating mass incarceration and the War on Drugs."
Jones then stated that the meeting concluded without any aggression, and was conducted in a respectful manner without Clinton discussing any policies that she is considering to combat the systemic racism which continues to fuel the growth of the Black Lives Matter movement.
While it is a huge step forward for the Black Lives Matter movement in the arenas of both Mainstream Media and placing pressure on those in the political systems to address these concerns, what is plainly obvious is that Clinton will continue to avoid confrontation and do as little as possible to placate her potential constituents until she is forced to take a stand.