Director takes bullhorn to denounce trade agreement as "The Big Lie"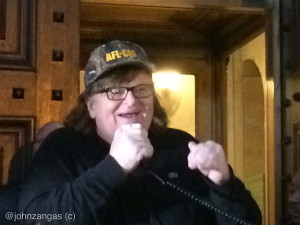 Protesters against the Trans Pacific Partnership (TPP) had just surrounded the U.S. Chamber of Commerce in Washington, DC on Monday night when filmmaker Michael Moore showed up to lend a hand.
Moore was attending an event just around the corner and heard the commotion at the Chamber of Commerce. He appeared delighted there was a protest against the trade agreement. "Oh, this is cool!" he said.
The director of Roger and Me and Bowling for Columbine took the bullhorn to speak about the devastating consequences previous trade deals, such NAFTA and CAFTA, have had on his hometown of Flint, Michigan.
"You only have to look at Flint and Detroit, which have not recovered, to see the damage that was done in the name of trade and the lies [about] making it better for people in other countries," he said.
At the end of a long day of protests against the TPP, which began early at the U.S. Trade Representative building, activists toilet-papered trees on the sidewalk and covered the building facade with light projections reading, "TPP = Corporate Coup," and "Pain for the Many, Profit for the Few."
Wearing an AFL-CIO cap, Moore didn't hold back in his criticism of President Obama for sealing the TPP deal, which he sees as a continuation of other "free trade" agreements.
"The working people that have suffered as a result of these trade agreements… As that banner says across the street: "TPP equals betrayal," Moore said. "They expect more from this president that many of us voted for."
He encouraged protesters to "keep this fight going." He added, "We're on the right side of what is good and moral."
The TPP protest continued on from the Chamber of Commerce, winding through the business district and stopping traffic on K Street. They succeeded in rushing the lobby of financial firm Morgan Stanley, and chalked anti-TPP slogans on sidewalks. Security rebuffed protesters at Monsanto headquarters. Department of Homeland Security Officers blocked doors at the the Ronald Reagan International Trade Center while late-shift workers watched from windows.
This slideshow requires JavaScript.