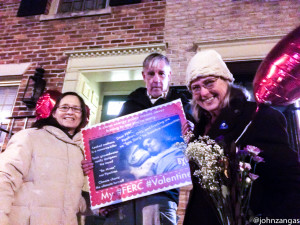 "Clean energy policy means never having to say you're sorry."
A twist on the catchphrase from the movie Love Story was the message delivered on Wednesday by anti-fracking activists to heads of a federal energy agency. Hoping that the four current voting members of the Federal Energy Regulatory Commission (FERC) would get into the spirit of Valentine's Day, they made special in-person deliveries of cards, flowers and balloons to their homes in Washington, DC, Massachusetts, Arkansas and Virginia.
"We're bringing the love people have for their communities and the places they live right to the commissioners' doorsteps," said Lee Stewart, who stopped by Commissioner Collette Honorable's home in Little Rock, Arkansas.
FERC is in charge of approving gas infrastructure projects, such as interstate pipelines, compressor stations, gas storage facilities and LNG terminals. At a time when the gas industry seeks to expand its capacity to transport gas extracted by hydraulic fracking, these projects have intruded on more landowners, communities and ecosystems.
Opposition has grown to the point that it is a major thorn in the side of companies keen to get pipelines built. Anger at FERC has grown as community members accuse the agency of smoothing the way for projects which appropriate land through eminent domain and may be dangerous.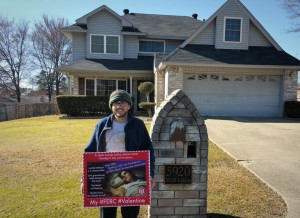 "Dear FERC, Pipelines, LNG and fracking are no 'Love Story' for frontline communities," reads the 2-foot square colorful Valentine prepared by the activist group Beyond Extreme Energy (BXE), whose disruptions of FERC monthly public meetings have become notorious.
Over the last week, people affected by gas infrastructure projects have been tweeting e-Valentines to FERC commissioners and "snail-mailing" homemade cards to their addresses. (In addition to their permanent residences, the commissioners also have places to stay in Washington, DC or its suburbs when they need to be near FERC's main offices.) Heartfelt, clever or defiant messages addressed to the commissioners convey how much power their decisions have over ordinary people's lives.
With two colleagues, Laura Gubisch dropped off flowers and balloons at the Washington, DC residences of Cheryl LaFleur and Chairman Norman Bay. She knows they can be "heroes" if the goal of sustainability guides their rulings. "They can turn and do the right thing at any second, which they know in their heart is clean air, clean water, and a clean world for our future generations," she said.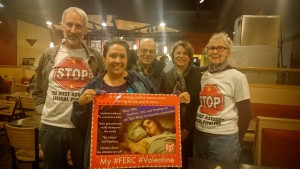 Another delivery was made in the Northeast. Five people affiliated with Stop the West Roxbury Lateral Pipeline (SWRL) delivered a Valentine to Commissioner Cheryl LaFleur's home in Wellesley, MA. The Mayor of Boston recently announced that the city will challenge FERC's final approval of the pipeline in federal court. Spectra's pipeline will terminate at a gravel quarry which regularly uses dynamite.
FERC is also at the center of a controversial decision affecting landowners in northeast Pennsylvania. On February 19, a court in Scranton, PA will hear an emergency motion from the Constitution Pipeline, which claims that the Holleran/Zeffer family is in contempt of court. FERC approved clearing the right of way for the Constitution Pipeline in Pennsylvania, although it hasn't obtained all the necessary permits. For 20 days, the Hollerans, along with friends, have kept lookout for pipeline company crews intruding on their property. They say they are trying to reach an amicable solution with Williams Partners, but the company hasn't made them a reasonable offer, nor have they signed any agreement.
Video of special delivery to Commissioner Honorable's house in Little Rock, AR here.
Photos of homemade Valentines mailed to Commissioners and e-Valentines tweeted to them:
This slideshow requires JavaScript.