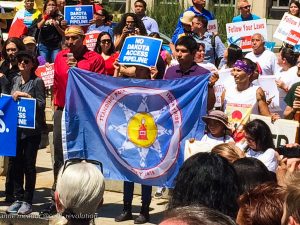 Washington, DC — Members of the Standing Rock Sioux and other Native American tribes and their supporters gathered for several hours outside a federal courthouse today while a judge heard arguments on whether construction of an oil pipeline next to a reservation should be halted.
The Dakota Access Pipeline poses irreparable harm to culturally and archeologically significant sites, according to the complaint filed by the Standing Rock Sioux tribe against the U.S. Army Corps of Engineers to gain an injunction against the pipeline. The Corps granted Dakota Access permission to cross the Missouri River and Lake Oahe, just half a mile north of the tribe's water supply intake.
Although Dakota Access has not received an easement to drill under Lake Oahe, it has gone ahead with construction of access roads. In anticipation, Standing Rock Sioux pitched a "Spirit Camp" last May. Since August 12, as many as two thousand people have joined them to block construction crews, in spite of arrests and even the issue of an emergency declaration by the governor of North Dakota.
"We are pleased that we had our day in Court today, and we look forward to a ruling soon," said Dave Archanbault II, Standing Rock Sioux Tribal Chairman, in a press release. "I believe that everyone who attended the hearing today will understand that the Tribe is seeking fundamental justice here—as we seek to protect our waters and our sacred sites," he said.
Those wanting to watch the hearing waited nearly an hour in line for security. They filled both the courtroom and an overflow room. Outside, a few hundred people remained gathered around a drum circle holding signs which emphasized the importance of drinking water and tribal rights.
The tribe claims that U.S. Corps of Engineers did not adequately consult them in surveying the pipeline route which it believes would disturb sensitive areas such as burial sites. Moreover, the complaint calls the area of the proposed route "a landscape filled with cultural and historical significance central to the Tribe's identity."
"Without a preliminary injunction… any victory will be hollow," the tribe's attorney said. "In two weeks, I don't know if there will be anything left."
In contrast, an attorney for Dakota Access emphasized the need for speed to make the January 1 in-service date. The company will start boring at Lake Oahe as soon as it receives an easement. He described even a one-week injunction on building access roads and a drilling pad as posing "a critical threat to this project."
So far, protests have prevented construction of access roads, and they may continue to do so until the U.S. District Court judge issues a ruling on the motion no later than September 9.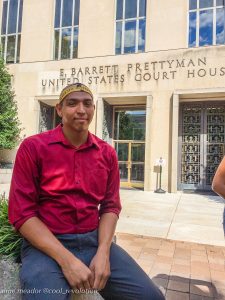 Many Sioux traveled the long distance to Washington, DC to attend the hearing. For Macauley Brown, 24, a Standing Rock Sioux from Wakpala, South Dakota, this was his second trip to Washington in two weeks. But the first time he arrived on foot after running 2,000 miles with other youths to deliver petition signatures to the Corps.
Following the hearing, he is returning to the Spirit Camp. "It's peaceful, prayerful. We are staying together."
Rick Laundreux, a member of the Cheyenne River Sioux, rode thirty hours straight on a bus to be there. The Cheyenne River Sioux reservation is next to the Standing Rock Sioux, and they also get their drinking water from the Missouri River. Laundreux said that this crisis has brought all the tribes together. While he calls the blockade of pipeline construction "a spiritual camp, a peaceful camp," he believes if the company starts to build the pipeline itself near their drinking water supply, "people will resist."
Jane Kleeb, director of Bold Nebraska, an organization which successfully called on President Obama to quash the northern leg of the Keystone XL pipeline, believes that he also has the ability to put the process on hold in the case of the Dakota Access Pipeline. Ultimately, she thinks the entire project requires a climate risk analysis.
The Dakota Access Pipeline would run 1,162 miles from the Bakken oil fields of North Dakota, through South Dakota and Iowa to Patoka, Illinois. According to a representative in court for the U.S. Corps of Engineers, the pipeline is 48% complete.
This slideshow requires JavaScript.