An emergency hearing in the U.S. District Court for the District of Columbia resulted in a partial win for Sioux Nations, which are seeking to prevent a pipeline company from destroying areas of significant cultural and historical importance, including burial sites. But a federal judge's preference to broker a deal rather than issue a restraining order may have resulted in a hollow victory for the Standing Rock and Cheyenne River Sioux Tribes.
The Tribes had asked the court for a temporary restraining order on Dakota Access, LLC after a construction crew bulldozed an area on September 3 that had just been surveyed and declared by a Tribal archaeologist as "one of the most significant archaeological finds in North Dakota in many years."
In addition, a paramilitary squad hired by Dakota Access sicced dogs on, teargassed and pepper-sprayed a group of about 300 Dakota people when they attempted to obstruct the construction.
U.S. District Court Judge James E. Boasberg, however, stayed away from resolving what he called "diametrically opposed accounts of what's happening on the ground." Instead, he alternately tried to coax concessions from the Tribe and Dakota Access, LLC to reach an agreement to put in place for the three days remaining until he rules on a preliminary injunction on September 9.
In the end, Dakota Access agreed to suspend construction in the area from Highway 1806 to 20 miles east of Lake Oahe. Judge Boasberg believed he lacked authority to impose a temporary restraining order on construction west of Hwy 1806 and declined to grant Standing Rock Sioux Tribe's request. The site that was bulldozed on Saturday and the areas that have not been surveyed lie west of Hwy 1806.
"Today's denial of a temporary restraining order against Dakota Access Pipeline west of Lake Oahe puts my people's sacred places at further risk of ruin and desecration," said Standing Rock Sioux Chairman David Archambault II in a press release. "We are disappointed that the U.S. District Court's decision does not prevent DAPL from destroying our sacred sites as we await a ruling on our original motion to stop construction of the pipeline."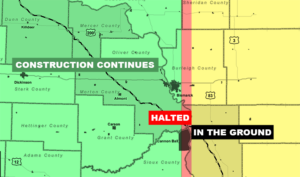 According to a motion filed by the Cheyenne River Sioux Tribe, whose cultural heritage also lies in the archeological site bulldozed last weekend, grading carried out by Dakota Access "may easily be deep enough to destroy burial sites and certainly disturb any of the Tribes' ancestors interred there." It claims that a ban on future construction could allow them to take measures to mitigate additional harm.
Judge Boasberg said his chambers had been flooded with calls all day in support of the Standing Rock Sioux. "Some people seem to believe a court is like a legislator's office," he said.
This post was updated to include a statement from the Standing Rock Sioux Chairman.