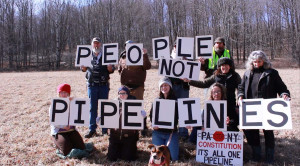 Former Chesapeake Energy Corp. CEO Aubrey McClendon may no longer be with us, but his old message about anti-fracking activists continues to echo in the meeting rooms of industry conferences.
Five years ago, McClendon, who died in a car crash in March, told the audience at the Shale Gas Insight conference in Philadelphia that life would be cold, dark and hungry if the protesters outside the Philadelphia Convention Center succeeded in stopping shale gas drilling.
Time has moved on, but the thinking of some executives in the industry remains the same. This year, at the Shale Insight conference across the state in Pittsburgh, Pa., Marathon Petroleum Corp. CEO Gary Heminger assumed McClendon's role by chastising activists and regulators for failing to acknowledge the significant improvements in environmental quality the oil and gas industry has made over the past several decades.
"Despite the enormous benefits we have brought to our nation and its citizens, we face activists who tell us we should keep oil and natural gas in the ground," Heminger said in a Sept. 21 keynote speech. "But we know that there are no energy sources capable of replacing what we produce every day. Without doing what we do, much of the world would simply go without energy."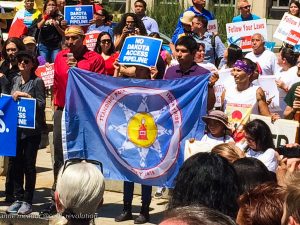 Activists try to paint the industry as villains, Heminger said, noting that regulators at both the state and federal level are "making common cause" with these activists. Some regulators have become "almost militant" to the industry, he said, listing the Dakota Access Pipeline, in which Marathon Petroleum last month agreed to pay $2 billion to acquire a minority stake, as an example of how regulators are standing in the way of getting crude oil to market. Spun off as its own company by Marathon Oil in 2011, Marathon Petroleum is one of the largest petroleum product refiners, marketers and transporters in the United States.
In his rebuke to regulators, Heminger referred to the Department of Justice's decision on Sept. 9 to request a "voluntary pause on all construction" of the Dakota Access Pipeline near the Standing Rock Sioux Reservation. The request was released jointly with the Department of Interior and U.S. Army Corps of Engineers and came immediately after U.S. District Court Judge James E. Boasberg ruled against a Standing Rock Sioux motion to stop construction of the pipeline near their reservation.
Beyond 'Crazy Environmentalists'
Some industry supporters, however, are trying to get their colleagues to change with the times. Thomas Ahern, CEO of Five Corners Strategies, an industry public affairs firm, emphasized that the "crazy environmentalists" of Earth First! "chaining themselves to something" are no longer the normal opposition to the oil and gas industry.
The typical opposition the industry will encounter today are "normal people, actual regular people," Ahern said. "Your neighbors, the people that you went to school with. Your barber. The person who sells you a bagel in the morning. They're regular moms and dads. They're police officers. They're nurses. They are Democrats, but they are also Republicans." If the energy industry is going to succeed in getting a pipeline built, officials must stop thinking "it's just crazy environmentalists. That's not the way it works any longer," he said.
Spending time with impacted residents is a requirement when building a new pipeline because the project will be one of the biggest topics of conversation in each community, according to EQT Corp. Executive Vice President Blue Jenkins. "If you pick up any newspaper in the region, you will find headlines" critical of the pipeline project, Jenkins said. "It's the new reality for what we deal with as pipeline developers."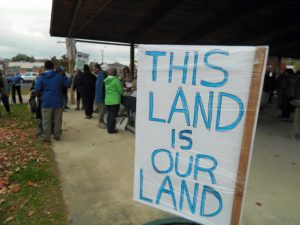 EQT is the lead developer of the controversial Mountain Valley Pipeline, which is designed to transport natural gas from the Marcellus and Utica shale plays into Virginia. "The opponents are very organized, they are very aggressive and they are very vocal. Some might call them the vocal minority," Jenkins said.
If pipeline developers are to be successful in this "new world," they must stay engaged and remain positive, he explained. "You must respect the public concern, but you also have to promote the facts. You must maintain a constant drumbeat of consistent messaging," said Jenkins, who expects the Mountain Valley Pipeline to enter service by late 2018.
The Mountain Valley Pipeline project is one of several pending pipeline proposals that would carry natural gas from the Marcellus and Utica shale plays to various demand centers. "Every one of those projects is being hotly contested at FERC and in the communities along the proposed routes," said Owen Kean, senior director of energy at the American Chemistry Council. "Without those pipelines, the Marcellus and Utica formations will not meet their full potential."
Michael Krancer, former secretary of the Pennsylvania Department of Environmental Protection and a partner with the law firm Blank Rome LLP, said his primary goal today is making sure the industry reaches its full potential. "I am an advocate for this business," Krancer told the conference audience. "There is a moral case for hydrocarbons. … I'm thankful for what you do. The public should be thankful for what you do. Environmentally, it's beneficial. At the end of the day, we need to be proud of what this industry does and we need to stop spending our time being on the defensive."
The industry has mastered building pipelines and operating them safely, Krancer contended. "What we haven't mastered and what we face is this political process that is turning against us. Yet we're relying on these old comfortable strategies and paradigms on how to approach what we do. It's not working anymore."
A Decade of Resistance
"The landscape today from the political risk front is so much different than it was 10 years ago where projects just got approved," Krancer said. "Nowadays, things are different. Some are dedicated, ideologically, politically, for whatever passionate reason, to eliminate the use of hydrocarbon fuels," he said. Krancer refuses to use the term "fossil fuel." He believes the people who are "dedicated to eliminating the use of them" like to call them fossil fuels "because it makes them sound old, something that should be extinct."
Like most speakers at the conference, Krancer said it is a vocal minority that is driving opposition to pipeline projects. He pointed to North Dakota where he believes a majority of the residents support the construction of the Dakota Access Pipeline. "What we have seen there is nothing short of mob politics," citing the Native American resistance to the pipeline.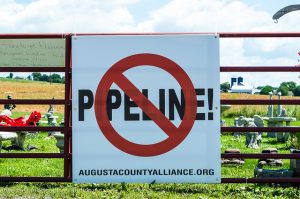 Krancer stressed that the industry needs to stay engaged with the people to avoid future political risk. "We know what the majority of people want," he said. "We have to be careful that what happened in New York doesn't happen elsewhere." After more than seven years of study, the New York State Department of Environmental Conservation in June 2015 issued a final document that was needed to ban fracking in the state.
Borrowing a term popularized by former President Richard Nixon during the height of public opposition to the Vietnam War, Krancer established a grassroots lobbying and advocacy firm called Silent Majority Strategies. The firm focuses on communicating to the public and shaping public opinion for the energy industry. "We have to harness the silent majority. That's why we call our business the Silent Majority Strategies," he said.
Engaging concerned residents one-on-one by knocking on their doors or speaking with them at pipeline "open houses" is crucial to gaining their support for a project, Ahern said. "Ten years ago, you could come in and say, 'We'll give you a new fire truck. How about a new police car? That's not going to cut it any longer. It doesn't work. You're not buying fire trucks to get an approval any longer, even if FERC says, 'Hey, that's great.' Because it's not about that any longer. Ask anybody who has done work in New York if you can count on that."
Ahern also stressed that state and local politicians likely support energy infrastructure projects in their communities, but often the public outcry forces them to come out against a project. "Give state and local politicians a reason to support you," Ahern said. The industry needs to be in constant contact with local politicians and organize letter-writing campaigns to their offices, he said. "You need to give them 'cover.'… That's what they're looking for. Elected officials want a reason to support you," Ahern said.