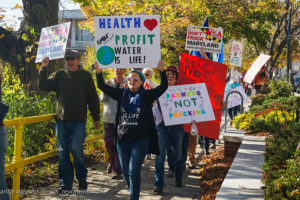 A fracked gas pipeline proposed by Columbia Gas was the motivation for a protest and march on Saturday at the C&O Canal National Park near the point where the pipeline may cross the Potomac River. While details are scarce about the pipeline so far, it will likely originate in Pennsylvania, traverse Maryland and connect with a distribution line in the Eastern Panhandle of West Virginia.
On this glorious autumn day, a crowd of about fifty people cheered the arrival of two hikers on the C&O Canal towpath at the tiny town of Hancock, Md. The pair of young women–dressed colorfully in teal t-shirts and carrying several yards of black piping–swept into their welcoming, even though they had already walked more than 100 miles since October 15. Kim Alexander and Aeryn Boyd are walking 313 miles along Maryland waterways.
"We're walking across the state of Maryland to celebrate water and protect life," Boyd said. She and Alexander support state legislation to ban fracking. "Fracking is a very big risk, and it's not worth it when we have other types of energy." They believe a fracking ban would not only protect people and the environment from harms created by wells, but also from their associated infrastructure, such as the pipeline proposed near Hancock.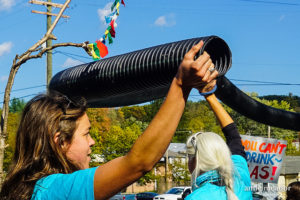 Russell Mokhiber of Morgan County, W.Va., addressed the gathering and described how another company in West Virginia, Mountaineer Gas, is depending on Columbia's pipeline to supply its planned expansion. He speculates that it could even be one piece in a transmission system transporting gas from Pennsylvania's shalefields to a terminal on the Chesapeake Bay for export. We have "a flood of gas" which leads to redundancies, he said.
"Many people here are from Morgan County. They don't want this pipeline because, one, of the way this company [Mountaineer Gas] is bullying landowners, going to older people, saying: 'If you don't take this offer, we're going to come and get it with eminent domain,'" he said. "But two, because we don't need this gas. We don't need it, and it's very risky. There are leaks, there are explosions."
Several protesters also carried "Ban Fracking in Maryland" signs. Maryland Governor Larry Hogan just released regulations on fracking as the first step toward lifting the moratorium against the extraction method in the state.
"The gas is from fracking," Carolyn Reece of Morgan County said about the pipelines. "There are too many pipelines. Now there's one in my backyard. It has to stop, this greed for gas."
Following a march through the main thoroughfare of Hancock, the group gathered for a prayer circle on the Potomac. Amanda Kimimilla sang a "protection song" she said her Lakota grandmother taught her. Kimimilla of Hedgesville, W.Va., had recently returned from the Standing Rock reservation in North Dakota, where thousands of Lakota, Dakota and Nakota peoples—also known as Sioux—are trying to protect the Missouri River from contamination by the Dakota Access Pipeline.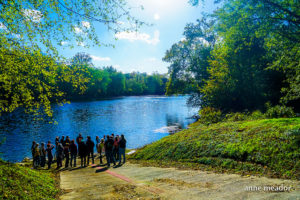 "All pipelines leak. Over time, they corrode," she said. She noted that fifty pipelines have leaked this year, but news reports rarely cover them. Heat expansion and cold weather shrinkage cause "structural anomalies" which can lead to accidents. She also described the tendency for companies to abandon pipelines.
Columbia Gas must apply to the National Park Service to drill under the Potomac River to lay its pipeline. A pipeline leak or accident poses risks of fouling the drinking water supply of millions of people who live in Washington, DC and surrounding areas.
Those opposing the pipelines may clash with localities anxious to capitalize on gas-powered industries. Procter & Gamble, for example, is constructing a new manufacturing plant in Berkeley County, which some are hyping as an economic bonanza likely to transform the area. Part of the $8.5 million in infrastructure improvements provided by the county will include additional gas lines. The Mountaineer Gas pipeline expansion would likely provide gas to power the plant.
The executive director of the Jefferson County Development Authority told the Shepherdstown Observer that the county missed out on the Procter & Gamble gravy train in part because lack of gas distribution lines put it at a competitive disadvantage. He welcomes the Mountaineer Gas expansion.
Columbia Pipeline Group was acquired by TransCanada Corp. last March for $13 billion. TransCanada is probably most well-known for the Keystone Pipeline, which transports dilbit from tar sands mines in Canada to the Gulf Coast. TransCanada's attempt to build the Keystone XL, the northern leg of the pipeline, were blocked last year when the U.S. State Department denied the pipeline's permit.
SaveSave
SaveSave