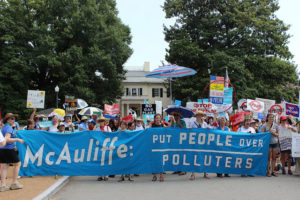 The League of Women Voters of Virginia completed an in-depth study of hydraulic fracturing and is now working with its local chapters to prepare a state policy position on the oil and gas production process. The study, released in October, provides an overview of the modern form of hydraulic fracturing, also known as "fracking," and identifies the areas of the state that could be targeted by natural gas producers using the technology.
In Virginia, the Marcellus Shale is found along the western edge of the state, while the Taylorsville Basin and other smaller basins are located in the eastern part of the state. Southwestern Virginia is known predominantly for its coalbed methane production, but the industry also has drilled thousands of oil and gas wells in the region over the past 85 years.
In its advocacy work and lobbying, the League of Women Voters of Virginia often relies on the policy positions developed by its national office in Washington, DC. With fracking, though, the state organization wanted to develop a position that would be more specific to Virginia, according to Lois Page, co-president of the League of Women Voters of Virginia.
"We were concerned that the only fracking position we had to work with as a state was a national position advocating for clean water," Page said in an interview. "There seemed to be other issues involved. We felt that we had to study it just for Virginia, to see what Virginia needed."
The state organization wants its 12 local chapters to review the study and then come to a consensus on questions that delve into how the use of fracking should be regulated at the state and local levels in Virginia. The local chapters' consensus reports are due to the state organization by the end of March 2017. The state organization will then decide on a policy position regarding fracking in Virginia at its April 2017 board meeting, Page said.
At its state convention in 2015, the League of Women Voters of Virginia voted to undertake the fracking study. The 24-page study, researched and prepared by a group of League of Women Voters volunteer members, took approximately 14 months to complete.
"Hydraulic fracturing is a moving target. Every day, new legislation, lawsuits, and technologies are created," the League of Women Voters of Virginia concluded in the study. "Every geology and well requires a different extraction method. Every piece of data has advocates and opponents. Industry, government, and citizens struggle to find a balance that will provide low-cost, environmentally clean energy in quantities that will support our current lifestyles and future energy requirements."
The Virginia Oil and Gas Association (VOGA) said it encourages citizens and groups to research the facts about fracking in the state. "The Commonwealth of Virginia has a rich history of safe and environmentally sensitive natural gas and oil extraction with more than 80 years of history to back up the facts," the trade association said in an Nov. 1 emailed statement. "There are more than 9,300 gas wells in Virginia  and there have been no proven cases of groundwater contamination attributed to fracking."
Another Fracking Study?
Instead of preparing a new fracking study, some environmentalists believe the League of Women Voters' time could be put to better use. Natalie Pien, chair of 350 Loudoun, a local chapter of the 350.org environmental group, contends researchers have conducted enough studies into the impacts of fracking.
"The time and energy should be spent on going ahead and opposing it. There have been plenty of studies, plenty of evidence that fracking is dangerous, whether it is happening in Virginia or Pennsylvania or West Virginia," Pien said in an interview. "I can see where they want an independent study, but it's like recreating the wheel." Due to concerns over a rapidly changing climate, Pien emphasized "we don't have time to recreate the wheel and then take action."
Pien said she supports the League of Women Voters but wishes the organization would use studies already conducted by universities and other organizations. "Whether or not fracking occurs in Virginia or occurs in other states, it's the same problems, the same issues, the same impacts," she said.
The League of Women Voters has procedures it follows as it formulates policy positions. Preparing studies on issues, which represents one step in these procedures, allows the League to proceed with stronger support from all of its members, the organization said.
In December 2015, the Virginia Sierra Club joined other environmental groups to urge Virginia Gov. Terry McAuliffe to order a "thorough, interagency, public review of the Commonwealth's regulations and procedures" governing fracking in the state.
"Although some limited lower-volume fracking has occurred in the past, newer and more risky fracking techniques seen in other states would be new to Virginia, and Virginia is not prepared for them," the Virginia Sierra Club said in the Dec. 3, 2015, letter. "A 2013 survey of regulations across the country found that Virginia has among the least stringent shale gas regulations of all 31 states in the United States with actual or potential shale gas production." The McAuliffe administration has yet to order a comprehensive, inter-agency review of the state's rules and regulations governing fracking.
Earlier in 2015, though, a Virginia advisory panel recommended that energy companies disclose the chemical ingredients they use in fracking. But the Sierra Club contended these recommendations and others did not go far enough. "Even with DMME's [Virginia Department of Mines, Minerals and Energy] recently proposed amendments, Virginia's drilling regulations fail to adequately protect the public," the Sierra Club said in the December 2015 letter.
VOGA countered that additional regulation of Virginia's natural gas industry is unnecessary because the sector is already regulated by a multitude of agencies at both the state and federal levels, including the Virginia Department of Mines, Minerals and Energy's Division of Gas and Oil, the Virginia Department of Environmental Quality, the U.S. Army Corps of Engineers, the U.S. Environmental Protection Agency, the Virginia Marine Resource Commission, the Virginia Department of Conservation and Recreation, and the Virginia Department of Labor and Industry.
It remains unclear which side of the debate the League of Women Voters of Virginia will fall. The organization could support the status quo, tighter regulation of the industry, or even a ban on fracking in the state. The League of Women Voters of Virginia emphasized its fracking study was guided by principles espoused by its national organization, including the belief that "the government should promote the conservation and development of natural resources in the public interest, share in the solution of economic and social problems that affect the general welfare, and promote a sound economy."
The study's authors put together a list of issues that it wants its local Virginia chapters to examine in relation to fracking: the public's right to know, protection and management of natural resources, social and economic justice, and health and safety.
Modern Fracking Slow to Reach Virginia
Companies have used fracking on approximately 2,100 wells in shale, sandstone and limestone formations in southwestern Virginia since the 1950s, according to the Virginia Department of Mines, Minerals and Energy. Virtually all of these fracking jobs used small amounts of water and did not employ the high-volume, slick-water methods used in shale gas drilling operations since the early 2000s.
With the new technology mastered, producers were able to economically tap shale rock formations for both oil and natural gas. In Virginia, as little as 35,000 gallons of water may be required for a coalbed methane well compared to up to 6,000,000 gallons that may be used to frack a well in the Marcellus Shale.
The George Washington National Forest, located in western Virginia, has been viewed as a potential site for shale gas drilling. But two years ago the U.S. Forest Service (USFS) announced it would place nearly all of the 1.1 million-acre George Washington National Forest off-limits to shale gas drilling and fracking. In a decision issued in late 2014, the USFS said it will allow drilling on only 10,000 acres in the forest now leased for energy development and on 167,000 acres whose mineral rights are privately owned.
Preparing the fracking study turned out to be a major undertaking for the League of Women Voters of Virginia, an all-volunteer organization, aside from one recently created administrative position in Richmond. The organization does not have enough members to conduct major studies on a regular basis, Page said.
Construction of pipelines has emerged as another controversial energy-related issue in the state. League of Women Voters members in parts of Virginia are concerned about the numerous natural gas pipelines projects and pipeline upgrades that have been announced in recent years. But Page said it is too early to say whether the organization will conduct another study on pipelines. If enough members express an interest, the pipeline issue could be discussed at the organization's next state convention in June 2017, she said.