Protesters converged on downtown Washington, DC, again on Nov. 14, but this time it wasn't all about the election of Donald Trump as president. Many came to the nation's capital to celebrate the defeat of the Trans-Pacific Partnership (TPP), although some fear Trump could backtrack on his campaign promise to oppose the regional trade deal.
As part of the day of action, protesters blocked I-395 in D.C. for more than 30 minutes with an enormous banner which read, "Stop Trumpism." Later in the day, people marched from Capitol Hill to the new Trump International Hotel on Pennsylvania Avenue with fake torches and pitchforks to bring attention to the nation's economic inequality and what they see as a Trump administration's threat to civil liberties and human rights.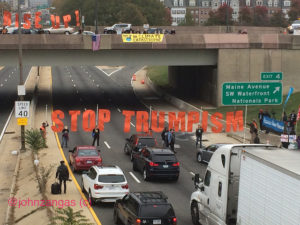 The protesters maintained the protest action was not an endorsement of Democratic Party candidate Hillary Clinton. One of the day's goals was to empower people disillusioned with the two-party political system, including Bernie Sanders supporters, by providing them with examples of activism beyond the ballot box, said Veronica Murray, a Massachusetts resident, who was one of the activists who blocked the freeway with the "Stop Trumpism" sign.
"Protesting against Trump, as a person, is so limiting. It's bigger than that," Murray said. "One of the reasons the sign says 'Stop Trumpism' instead of 'Stop Trump' is because Trumpism embodies racism, xenophobia, anti-gay. We're not about stopping Trump himself. We want to stop the things he represents. If you voted for Trump, I'm not saying you're a racist. But if you voted for Trump, you're saying, 'Racism isn't a deal-breaker for me.'"
Labor Groups Remain Vigilant against TPP
More than 30 people traveled from Chicago for the day's actions to express their opposition to Trump's policies as well as to resist any attempt to bring the Trans Pacific Partnership back to life. In recent days, congressional leaders have insisted the Trans Pacific Partnership is dead. The TPP would set new terms for trade and business investment among the United States and 11 other Pacific Rim nations.
The Chicago participants, most of whom are members of UAW Local 551, view the TPP as a corporate giveaway trade deal that offshores jobs and lowers wages for workers in the U.S. Jena Perry, civil and human rights chairwoman of UAW Local 551, worries Trump could reverse his stance on the TPP, similar to how Democratic Party officials often act in Illinois. "They'll run on Democratic policies, but when they get into office they'll flip the script because they have these lobbyists giving money to them," Perry said.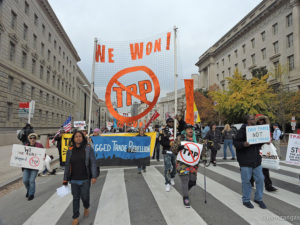 Labor leaders are refusing to let their guard down because the TPP could get heard during the lame-duck congressional session or Trump could decide to work with the new Congress to pass the trade deal. "Once they overturned Citizens United, they had unfettered revenue come through different lobbyists. We don't have that. All we have is our power as the people to come out here and speak and protest peacefully," she said.
The TPP would be counterproductive to many United Nations agreements and make it hard to achieve climate accords and goals, said Kevin Zeese, co-director of Popular Resistance, a Baltimore-based activist group. "We can actually design trade so it's consistent with those goals," Zeese said. "Trade can be used to improve lives of people and protect the planet. These trade agreements are designed instead to only create massive profits for transnational corporations make them more powerful … and make it impossible to act in the public interest."
Movement Builds on anti-TPP Success
Unlike other participants in the day's events, Zeese expressed confidence that the TPP will not get resurrected, especially after the Obama administration conceded Nov. 11 that the multilateral trade deal would not pass Congress. "Now that we've succeeded in defeating the TPP, we're building on that people power. This has turned into the beginning of a new campaign to stop Trumpism and to stop the corporate domination of our election that produced two of the worst candidates in history," he said.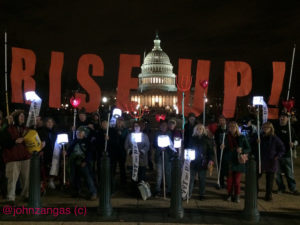 Even though Trump ran as an anti-establishment candidate, Zeese believes the Republican will not advocate for economic populism but will instead serve the wealthy. "I don't like his racism, his bigotry, his misogyny. Those are all very troublesome and they will bring people together. They will unite around them. But a lot of the protests that are making those points are missing the points about the economy," he said.
With Trump as president, activists will need to make choices in who they hope to include in their campaigns for change, according to Murray. "We made the decision to go with anti-Trumpism because we feel that's where the mood is right now, especially in this part of the country," she said. "Other groups may go more anti-establishment and try and pull in Trump people. It's not the wrong way to go, but then you're going to have even harder conversations about racism and xenophobia with people who still deny Trump is a racist."