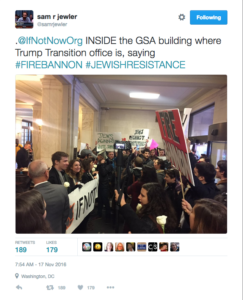 Protesters gathered at the Washington, DC, headquarters of Donald Trump's transition team on Nov. 17 to denounce the hatred and anti-Semitism they believe the president-elect and his close adviser Steve Bannon stirred up during the Republican's presidential campaign.
The protesters, many affiliated with a group called IfNotNow, urged Trump to fire his soon-to-be top strategist Bannon, who also serves as executive chairman of the far right-wing news site Breitbart News. A large group traveled to Washington from Philadelphia to express their opposition to Trump's policies and the president-elect's transition team.
IfNotNow was created in 2014 by mostly young Jewish Americans committed to ending the Israeli occupation of Palestinian lands. In New York City, IfNotNow is organizing a protest at a Nov. 20 gala of the Zionist Organization of America, where Bannon is scheduled to speak.
"I came down today to be a part of the start to the Jewish resistance," said Pele IrgangLaden, a Philadelphia resident and organizer with IfNotNow. "Donald Trump ran a campaign based on hatred, misogyny, racism, sexism, and honestly it was the first time in my life that I had seen widespread anti-Semitism. I felt that as a Jewish person, I needed to be on the right side of history and stand with other people together against hate and violence."
The dozens of protesters marched from Farragut Square in downtown DC to the nearby Washington office of the Jewish Federations of North America (JFNA) to protest the prominent Jewish group's unwillingness to denounce Trump. One day after the Nov. 8 election, JFNA sent a letter to Trump that read: "We very much look forward to working closely with you and your administration on uniting our country and on the important challenges ahead of us all."
Prominent Jewish Groups Remain 'Deafening Silent'
From the JFNA's offices, the protesters marched to Trump's transition headquarters about two blocks from the White House. One of the signs at the rally read: "If you ever thought in 1933 whether or not you would have fought back, now is the time to decide." Despite the relative silence of many prominent Jewish groups, the resistance is beginning to manifest itself in other parts of the Jewish community, according to IrgangLaden.
"Our community's leaders at the Jewish Federations and other groups that claim to speak for Jews — AIPAC and others — have been deafening silent and even have been offering their assistance to the Trump transition," said Ethan Miller, an organizer with IfNotNow. "American Jewish institutions, the ones that claim to support values of social justice, need to speak up against anti-Semitism and other forms of hatred."
Some Jewish groups such as Jewish Voice for Peace and the Anti-Defamation League have denounced Bannon's appointment, but most groups have remained silent. "Steven Bannon is a strong supporter of the Israeli occupation. These organizations are taking the pro-Israel-at-any-cost way of doing business and taking it to the extreme," Miller said.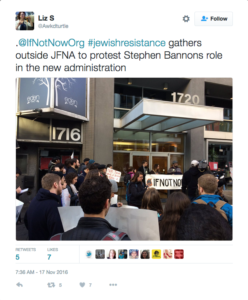 The protesters entered the lobby of the federal government building that houses the Trump transition team and chanted against the policies of the incoming administration. No arrests were made. "This is the greatest increase in anti-Semitism a lot of us have seen in our lifetimes, and we're really worried," Miller said. "We've seen hate crimes at synagogues and at schools, anti-immigrant and anti-Latino sentiment as well as hate crimes at mosques. There's a big increase in fear in this country."
Supporters of the Netanyahu government in Israel and the settler movement in the Occupied Territories favor Trump's policies of a registry of Muslims and eliminating movement of refugees because "that's exactly what the Netanyahu government has been doing for years," Miller said.
Establishment Democrats are not qualified to lead a resistance to Trump because of their institutional cautiousness and ties to many of the same lobbyists that provide support to both Republicans and Democrats, IrgangLaden said. "Obama telling us to wait and people saying to welcome Trump as well as the Jewish Federations' congratulations of Trump and AIPAC's silence on Trump and Bannon, we know all of that is not the leadership we need. We're here to be the leaders that our institutions refuse to be."