Washington, DC — Activists from Smash Racism DC, an anti-fascist group, confronted about 60 members of the National Policy Institute (NPI), a white nationalist think-tank, at a local restaurant where they were holding a dinner meeting Friday night.
They barged into the dining area of Maggiano's of Little Italy, chasing the self-proclaimed white "identifiers" upstairs. As meeting participants bolted upstairs, protesters chanted, "No Nazis, no KKK, no fascist USA!"
Maggiano's staff quickly formed a human barricade on the stairs between protesters and NPI members, blocking access until police arrived. There was a brief pushing match between Maggiano's staff and protesters but no injuries or arrests. NPI members, including its president Richard Spencer paced on the balcony above and jeered at the protesters.
Several diners not associated with NPI cheered on the protesters, but it was not clear if they were aware of the nature of the dinner meeting going on in the room nearby.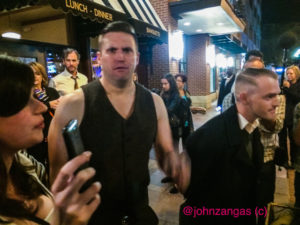 Richard Spencer coined the term "Alternative Right," also known as Alt-Right. The Southern Poverty Law Center calls it "a set of far-right ideologies, groups and individuals whose core belief is that 'white identity' is under attack by multicultural forces using 'political correctness' and 'social justice' to undermine white people and 'their' civilization." Those espousing the Alt-Right ideology made up some of Donald Trump's most enthusiastic campaign supporters. In addition to Spencer, other well-known nationalists in attendance at Friday's dinner included Peter Brimelow of Vdare, a white nationalist group, and Nathan Damigo, head of Identity Evropa, a White supremacist group
Earlier that evening, activists held a flash mob at Trump International Hotel to bring attention to President-elect Trump's recent political appointments, some of whom espouse racial bigotry and sexism. However, a tip-off led the protesters to relocate to the NPI dinner meeting in Friendship Heights.
Lacy MacAuley, a spokesperson associated with Smash Racism DC, said that NPI represents an ideology of hate. "They would like to hide their ideology of hate behind a veneer of suits and they think they look professional, but it's actually a policy of hate," she said.
MacAuley believes it is important to stand up against their ideology because of the threat it poses to others not like them. "Their policies would have people who they deem inferior to somehow forced to be sterilized. Their policies would have people who don't look like them in some sort of slow motion genocide," she said.
NPI regards the Trump election as a victory because of his racist rhetoric, in line with its white supremacist ideology. "There was an article published by Richard Spencer calling for the genocide of Black people," said Daryl Jenkins, Executive Director of One Peoples Project, an anti-racist organization.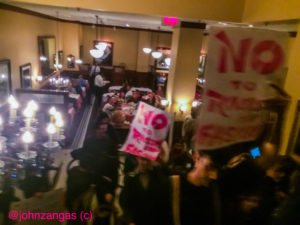 Jenkins believes it is important to take organizations such as NPI seriously, because they pose both a political and social threat to democratic order, no matter who is president. "Their mission is to create a separate nation for white people," said Jenkins. "We've seen this thing before, and we know what they're going to do. Everybody is past that, and we're not going to let it go any further."
NPI hosted its annual conference Saturday at the Ronald Reagan Building and International Trade Center. There was a scuffle between protesters and an NPI member outside the building. Police detained several but released them shortly afterwards.
NPI has been meeting twice annually in Washington since 2011, but with Trump's election is establishing a new foothold of access to power inside the beltway. With the appointment of Steve Bannon as Trump's Chief Strategist, a known Alt-Right supporter, as well as his cabinet appointments of far right ideologues, they are seeking increased visibility.
Answer Coalition is organizing an anti-racist mobilization during the inauguration weekend to counter the surge of racial incidents against Blacks, Hispanics, Muslims and other minorities occurring since the election.
This slideshow requires JavaScript.