Standing Rock Reservation, ND — In what will go down as one of the most violent chapters of a nine-month standoff against a company building an oil pipeline at the Standing Rock Reservation in Morton County, ND, police launched a full-frontal attack against Water Protectors trying to clear access across a bridge on Highway 1806.
Hundreds were injured, more than two dozen seriously, including an activist from New York who may lose functioning of an arm and is still in the hospital as of publication. An elder suffered a cardiac arrest, and a 13-year-old girl was shot in the head, purportedly by a rubber bullet. Dozens more were shot with what are believed to be rubber bullets.
Police launched the attack Sunday evening as thousands of indigenous people and their allies gathered as night fell and temperatures dropped below freezing. Water Protectors moved onto the bridge to clear burned-out vehicles to access the construction site where crews were beginning final preparations for drilling under the Missouri River at Lake Oahe. Police had set up a blockade behind the vehicles, and Water Protectors were able to remove one vehicle before police pinned them down on the bridge.
As of Monday night, the U.S. Army Corps of Engineers (ACE) had still not issued final permits for Dakota Access Pipeline construction crews to proceed when word of drilling preparations began circulating around the camps nearby.
Violent attacks by armed police were live-streamed throughout the night. Subsequent photos confirmed  police fired gas canisters, flashbang grenades, rubber bullets, and water cannons on hundreds who were trapped on the bridge.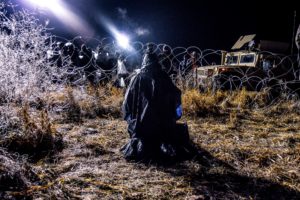 The Standing Rock Facebook page issued requests for supporters to call the White House and the ACE to demand President Barack Obama intervene, but it was difficult to get through switchboards. As of Monday, the White House had not signaled that it would intervene.
"They deployed twenty mace canisters in a small area in less than five minutes," said Angel Bivens, an attorney with the Standing Rock Water Protectors legal collective, who spoke by phone with Dallas Goldtooth of the Indigenous Environmental Network.
Police Arsenal Includes Concussion Grenades
Bivens reported that a woman had suffered a serious knee injury, and an elder had suffered a cardiac arrest but had been revived by medics on the scene. She also reported that the front-line medical area had come under attack by police with mace canisters and water cannons.
Standing Rock Medical and Healers Council sent a press release reporting over 300 injuries, which they treated on site, and 26 serious injuries, which were sent to several area hospitals. The press release outlined the human carnage from the attack, listing hypothermia as the major injury in most patients treated.
"Police continuously assaulted demonstrators with up to three water cannons for the first 7 hours of this incident in subfreezing temperatures dipping to 22°F, causing hypothermia in the majority of patients treated. Chemical weapons in the form of pepper spray and tear gas were also used extensively, requiring chemical decontamination for nearly all patients treated and severe reactions in many," the press release said. "Projectiles in the form of tear gas canisters, rubber bullets, and concussion grenades led to numerous blunt force traumas including head wounds, lacerations, serious orthopedic injuries, eye trauma, and internal bleeding."
Sophia Wilansky, 21, an activist from New York who had joined in support of Water Protectors several weeks ago, suffered a direct hit in the arm by a concussion grenade and will lose most functioning in her arm, according to her father. Friends had posted a request to help her family with blood donations and medical expenses. As of Tuesday night, the fund had raised $249,000, but medical expenses are expected to cost several hundred thousand dollars. More surgeries will be required on her arm over the coming days.
Morton County police denied using water cannons at first, and then later admitted using them to mist activists in response to fires that they set to keep warm.  But live stream video showed water cannons being fired directly onto the Water Protectors throughout the night as temperatures dipped below freezing. Water Protectors also reported flashbang grenade fire from police. Flashbang grenades are known to start fires under the right conditions.
A live stream broadcast by Kevin Gilbert from a nearby hill through the night narrated the violent scenes. Reaction to the attack was swift and described as heavy handed and brutal. Both Jill Stein and Bernie Sanders, former presidential candidates, shared the live stream of the attack on their Facebook pages.
Over 400 Water Protectors have been arrested since the uprising began at Standing Rock in April.