Washington, DC — Several hundred people, led by Native Americans in ceremonial dress, marched from the Department of Justice to the Washington Monument on Sunday in protest of the Dakota Access Pipeline, which is under construction on land belonging to Sioux Nations according to an 1851 treaty. This event was one of many solidarity actions supporting the North Dakota resistance camps fighting the pipeline, which if completed would run 1,168 miles from North Dakota Bakken shale fields to Illinois.
The march, organized by Last Real Indians, was accompanied by a drum circle and singers in a pick-up truck preceding the marchers. Three girls in "jingle dress" and five Native Americans in ceremonial dress danced and marched proudly up Pennsylvania Ave. in front of hundreds with banners and signs.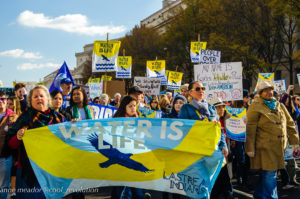 Marchers chanted, "Can't drink oil, keep it in the soil," "Who do we stand with? Standing Rock," and "Mni wconi, water is life!" Among the signs, some read, "Honor the treaties," referring to the U.S. government's treaties with the sovereign American Indian nations governing the land appropriated by Dakota Access LLC for its pipeline. Other signs read,"Defend the Sacred: We Are Still Here" and "Respect Existence, Expect Resistance."
The Morton County Sheriff's Department and several police departments and agencies from other states have made an all-out effort to defend the Dakota Access Pipeline from massive camps of protesters, or "Water Protectors," as they prefer to be called. Thousands have flocked to the remote North Dakota region in an effort to stop the pipeline or delay its completion beyond January 1, when some of Dakota Access' contracts expire. Law enforcement, outfitted with militarized gear and vehicles, have used full force on Water Protectors, including so-called "less-lethal" weapons such as rubber bullets, concussion grenades, tasers, tear gas, water cannons and LRADs, a sound cannon which can cause permanent hearing damage.
On Friday, the U.S. Army Corps of Engineers sent a letter to the Standing Rock Sioux saying that it would eject all protesters north of the Cannonball River on December 5. At the march's destination at the Washington Monument, Last Real Indians founder Chase Alone Iron Eyes addressed the crowd regarding ACE's letter.
"The Army Corps of Engineers seeks to declare Native American peoples trespassers on their own land. In 1875, they sent the same letter," he said. "The more things change, the more they stay the same. But things are different now."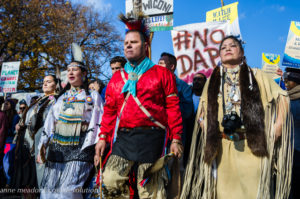 He said that his people had been "a warrior people" who had defended themselves "to the death." But now, he said, "we are living in a different time, with different gifts and technologies." While the Morton County Sheriff's Department had tried to paint them as violent, they would not "fall into that trap."
"All we need is the power of our peace," he said. "Peace is not passive. Peace is standing in your own dignity. We are the moral compass of this country." He was grateful for having allies, he said. "This is not only a Native American fight. This is so much more explosive than that. They're coming for your constitutional rights [too]."
A group of U.S military veterans have said that they will "deploy" to Standing Rock Dec. 4-7 to defend Water Protectors and sabotage Dakota Access Pipeline construction.
This slideshow requires JavaScript.