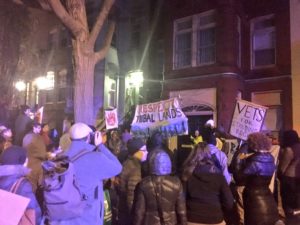 Dozens of people marched from Columbus Circle to the Capitol Hill house of Elaine Chao, President-elect Donald Trump's nominee for secretary of the U.S. Department of Transportation and a board member of Wells Fargo & Co., an investor in the Dakota Access Pipeline.
The Dec. 3 action was organized by the Washington, DC, chapter of Showing Up for Racial Justice (SURJ) to demonstrate solidarity with Native Americans who have been fighting construction of the Dakota Access Pipeline since last spring. As part of the months-long anti-DAPL campaign, activists have urged Wells Fargo and other investment banks providing loans to DAPL developer Energy Transfer Partners to end their financial support of the oil pipeline project.
"In responding to peaceful protection of tribal lands and resources with militarized violence, federal, state and local governments, as well as the shadowy web of corporations funding and construction the Dakota Access Pipeline (DAPL), are perpetuating a long history of white imperialist violence against the Standing Rock Sioux Tribe and other native peoples," SURJ said in a Dec. 3 press release.
Organizers from SURJ chose Columbus Circle, just south of Union Station, as the starting point for the march to symbolize the brutality faced by indigenous people in the Americas at the hands of white settlers for more than 500 years. Along with showing solidarity with the Standing Rock Sioux in North Dakota, organizers recognized that the District of Columbia is situated on the land of the Powhatan chiefdom, a tribal body that encompassed nearly 30 tribes and 6,000 square miles.
Activists Escalate Campaign against DAPL Banks
The protesters walked several blocks from Columbus Circle, halting traffic along the way, to Chao's house where they intended to urge the incoming DOT secretary to convince Wells Fargo to end its financing of the Dakota Access project. The former Labor secretary in the George W. Bush administration appeared not to be home. Wells Fargo reportedly said it would "be pleased" to meet with the Standing Rock Sioux tribe this month to discuss its investment in the Dakota Access Pipeline.
Chao is married to Senate Majority Leader Mitch McConnell, a Republican from Kentucky. The protesters quietly sang outside the house and then passed out leaflets about the Dakota Access Pipeline in the neighborhood. About a half-dozen police arrived on the scene, but no one was arrested.
"We join the thousands of American Indians from hundreds of tribes and millions of people of conscience from around the world in demanding the immediate withdrawal of police/military and construction forces from Standing Rock, as well as reparations for the recent and historical harms perpetrated by the U.S. government," the SURJ press release said.
Along with serving as a board member of Wells Fargo, Chao also sits on the board of directors of News Corp., the Rupert Murdoch-founded media conglomerate that owns Fox News, The Wall Street Journal and dozens of other media companies.