Washington, DC–A cold snap did not stop hundreds from marching to the Capitol with Standing Rock Sioux and allied tribe members of the Pontiac and Piscataway Nations on Sunday. Elders embraced allies as "relatives" to continue building on a growing bond of solidarity, and thanked them for their support in opposition to the Dakota Access Pipeline project over the last year.
Resistance camps at the Standing Rock Reservation in North Dakota protesting the pipeline has galvanized environmental movement enthusiasm against fossil fuel projects, which could contaminate the water supply of millions of people downstream. It has also attracted international sympathy for indigenous people in other parts of the world facing similar threats to their land and water.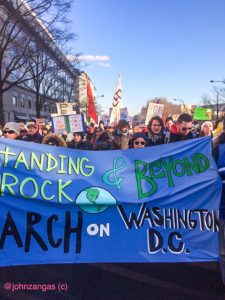 "Standing with Standing Rock is not about one pipeline, one river, or one Reservation," said Sebi Medina Tayac of the Piscataway Indian Nation, who led the march from the Drum Round circle. "It's about us being together. It's about us taking our power back," he said. He joined other Elders in saying the fight to save the Standing Rock water rights and against fossil fuels was far from over.
Mark Hill, a veteran who was wounded in Iraq, said that he joined the veteran's contingent at Standing Rock last week when he saw militarized vehicles being used against indigenous people there. "I thought that was completely unnecessary and that pissed me off because I rolled in them in downtown Baghdad getting shot at by RPGs and AK-47s, and mortars," he said.
Hill said he never expected to see the same military hardware being used against his fellow citizens, so he went to Standing Rock, along with several thousand other veterans to form a buffer between police and water protectors. But the veteran contingent did not deploy between opposing sides because the Army Corps of Engineers stopped the project at the last minute.
Last week the Army Corps of Engineers (ACE) withheld the final easement permit for Energy Transfer Partners to drill under Lake Oahe and promised to conduct a limited environmental impact assessment to consider possible alternative routes for the pipeline.
This last-minute decision avoided a confrontation which had been building since a massive police attack on water protectors on November 20 which injured about 300 people.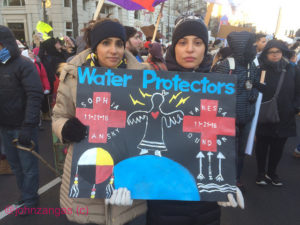 The Army Corps of Engineers' move is likely to delay the pipeline project by several months, even with the incoming Trump administration sympathetic to Energy Transfer Partners. It is being heralded by water protectors as a temporary victory.
ETP appealed to a federal court to intervene. Judge James E. Boasberg of U.S. District Court for the District of Columbia requested parties to submit final briefs regarding the pipeline impasse by January 30.
Supporters have sent copious amounts of supplies and donations–enough to fill a warehouse–to Support the Standing Rock Sioux at the Oceti Sakowin camp. A blizzard hit the North Dakota plains last week, causing temperatures to tumble below zero and forcing many of the thousands camped there to seek shelter indoors or to go home. However, about 5,000 water protectors remain and plan to stay on the freezing North Dakota Plains through the winter.
This slideshow requires JavaScript.