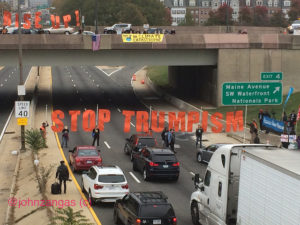 Washington, DC–January 20, 2017 may go down in history as the most chaotic inauguration ever as groups opposed to the administration of Donald Trump are finalizing plans to disrupt it. The groups form a loose coalition under the banner #DisruptJ20 with plans to blitz all 12 entry checkpoints with blockades, among other civil disobedience actions.
The morning trip into the District likely won't be easy either, since organizers announced plans to block traffic at key points around the city. Plans include training for arrests with instruction in legal rights for non-violent direct actions during the entire day.
Washington will in effect transform into a series of chaotic demonstrations along the two-mile route Trump will travel from the U.S. Capitol to the White House after he is sworn in as the 45th President.
Organizers held a press conference Thursday morning at St. Stephens Church to publicize the demonstrations. #DisruptJ20 is hoping to set the stage for a four-year term of dissent.
Law enforcement agencies ordinarily have their hands full monitoring the Inauguration as it is, but the protests this go-around will likely make it more difficult for police to manage. Over 57 police agencies are gearing up by activating 28,000 officers to provide extra security across Washington.
Security has been tight for past inaugurations too, even when there has been less coordinated disruption. Attendees of President Obama's inauguration in 2008 waited in line up to six hours to get through security.
The high-drama campaign leading to this year's Inauguration was marked by Trump's controversial comments, serving to alienate nearly every minority group—Muslims, Hispanics, immigrants, LGBTQIA, Blacks and women—and spurring a coordinated mobilization of opposition to his inauguration.
Even the National Park Service, which falls under the U.S. Department of Interior, the government arm responsible for issuing protest permits, won't be able to prevent the unpermitted demonstrations from taking place. The National Park Service has already issued a permits for the Women's March on Washington, and ANSWER Coalition, but other groups are not planning to apply for permits. Technically no permit is required for any group to exercise first amendment rights. But National Park Service uses the permit system to reserve space in public parks so there aren't conflicts between groups setting up stages and equipment for events.
A group known as Antifascists of D.C. plans to shut down the roads at strategic traffic points on Inauguration Day, but it is unclear where or when they plan to carry it out. Actions are expected to occur early in the day.
The plan for disrupting security checkpoints is being undertaken by a dozen or more groups in conjunction with #DisruptJ20. And with several layers of checkpoints, barricades and multi-tiered security checkpoints along the route, it will make it even more difficult for the public to clear the hurdles.
The protest groups are making no secret about their plans. Last Sunday, they invited the public to attend a meeting publicized on Facebook. Over three hundred showed up–including plainclothes police officers who took photographs of the attendees.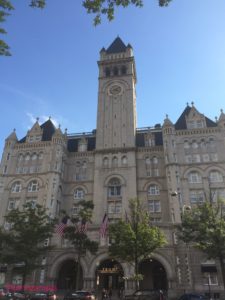 The Women's March on Washington is planned for the day after the Inauguration and is expected to draw up to two hundred thousand or more. It will start at 10am near the Capitol Reflecting Pool at 3rd St. and Independence Ave. SW and proceed westward along Independence Ave. to the White House Ellipse. Women's March on Washington organizers are not crafting their message as anti-Trump; they say they are marching to draw attention to issues such as economic inequality faced by women and the assault on women's health and reproductive rights promoted by the incoming administration.
In 2008, fans waited in frigid temperatures up to 9 hours to see the Obamas pass on Pennsylvania Avenue. Entry into the area around the Navy memorial, where First Lady Michelle Obama famously exited the Black Limousine wearing a bright yellow dress, took several hours. But as the limo stopped to let the couple walk, the crowd surged forward, being held back by only by a barricade and chain link fence.
When "The Donald" rides past the same spot, just blocks from the Trump International Hotel just a stone's throw from his new home, there probably won't be friendly accolades welcoming him for his first day on the job.
Groups like Answer Coalition, an anti-war, anti-racism organization, are planning to stir the pot at Freedom Plaza, two blocks up from Trump International Hotel, although they won't have ticket entry to the bleachers. Their plan is to disrupt the Trump administration agenda. Answer Coalition will be joined at about 1:30 pm by a march from Meridian Hill park. (See below)
Key Events Schedule
January 15-20: #DisruptJ20 plans both permitted and unpermitted events the week leading up to and day of the Inauguration. The home base for Inauguration Day activities will be McPherson Square from 9am until 5pm. For specific training and direct action times with locations go here.
January 15-21: CODE PINK Women for Peace plans actions and teach-ins all week.
January 18-21: Build and Resist Climate Convergence and Action. Four days of climate and environmental training on climate and environmental issues with preparations for demonstrations.
January 21: The Women's March on Washington is planning an all day event the day after the Inauguration. Many well-known women have joined the program and march. It will begin at 3rd St. & Independence Ave. at 9:30am and proceed on Independence to the White House Ellipse.
Other events scheduled in conjunction with Inauguration protests:
January 14-20: Refuse Fascism Rally and March from McPherson Square nightly 4pm until midnight. I St. and 15th St. NW, Washington, DC.
January 15: "Trump Exposed" Speakers Panel sponsored by Code Pink. 6pm – 8pm. A panel of speakers will present ideas on resistance in the time of the Trump Administration at Busboys & Poets, 1025 5th Street NW, Washington, DC.
January 18: Queer Dance Party at Mike Pence's House hosted by WERK for Peace and DisruptJ20. Shaking booty in front of VP-elect Mike Pence's house in Chevy Chase, Md. from 6-9pm.
January 18: #Earth2Trump Roadshow of Resistance sponsored by the Center for Biological Diversity. Washington, DC is the last stop of 16 cities for the roadshow of musicians and speakers. From 6 to 9pm at Capitale, 1301 K St. NW.
January 19: Resist Trump's FERC organized by Beyond Extreme Energy. Meet-up 8am at Union Station, march to Federal Energy Regulatory Commission at 9:30am. 888 1st St. NE, Washington, DC.
January 19: Evict the Democrats J19 organized by Popular Resistance, 1-3pm at Democratic National Committee headquarters, 1st St. SE, Washington, DC 20003.
January 19: "Deploraball" Protest of Alt-Right White Supremacy conference at National Press Club 7:30 pm, 529 14th St NW, Washington, DC 20045.
January 19: Poor People's Economic Human Rights Campaign and Revolutionary Road Radio Show will present bands and speakers from 2pm to 10pm at Franklin Square, 901 5th St. NW. Former Green Party presidential candidate Jill Stein is scheduled to be among the speakers.
January 20: J20 Resist! Protest Trump's Inauguration in DC. Permitted march during the inaugural parade. Gather at 6am at Columbus Circle in front of Union Station, then march to White House at 10am. Another rally follows at McPherson Square.
January 20: Qockblockade Brigade: Queer Resistance on J20 will hold a queer anti-Inauguration party at a security checkpoint. Meet at McPherson Square at 6:30am.
January 20: Answer Coalition Freedom Square protest against the Trump agenda. Begins at 7am and continues all day. Freedom Plaza, 1355 Pennsylvania Ave NW (14th St and Pennsylvania Ave). *CANCELLED – Moved to Navy Memorial.
January 20: Answer Coalition has also scored a second permit for a spacious site on the inaugural parade route at Navy Memorial, Pennsylvania Ave. NW between 7th & 9th Streets.
January 20: Occupy Inauguration and the Green Party Rally at Malcolm X Park (Meridian Hill Park). 7:30am to 12:30pm, with march at 12:30 pm down 16th Street to McPherson Square (near White House).
January 20: Trade Justice Action for Inauguration by Flush the TPP and Popular Resistance. 8am-12pm at 6th St. and I St. NW, Washington, DC.
January 20: #Trump420. Local marijuana advocacy group DCMJ will hand out 4,200 free joints at 20th and P Streets NW beginning at 8am, then march toward the National Mall at 10am with plans to light up 4 minutes and 20 seconds into Trump's speech.
January 20: Stand Against Trump starts at the northwest corner of McPherson Square at 9 a.m. Organized by Democratic Socialists of America (DSA).
January 20: Anti-Capitalist & Anti-Fascist Bloc meets at Logan Circle at 10am. Wear all black. Rhode Island Ave. and 13th St. NW.
January 20: #DisruptJ20 Festival of Resistance. Meet at Columbus Circle in front of Union Station at 12pm, march to McPherson Square. Rally at 2pm at McPherson Square, I St. and 15th St. NW, Washington, DC.
January 20: The Anti-Inauguration at the Lincoln Theatre is sold out but will live stream from 8 to 10pm. Speakers include Naomi Klein, Keeanga-Yamahtta Taylor, Anand Gopal and Owen Jones. Sponsored by Jacobin Magazine, Haymarket Books and Verso Books.
January 21: Militant Femme Bloc at Women's March on Washington meets at Independence & 3rd St. SW at 10am. "We'll be the ones in black."
Hotels are already booked solid and B&B's are also at capacity. However #DisruptJ20 has planned housing and large floor space locations but visitors must provide their own sleeping bags. Food is being prepared by Seeds For Peace with a request for donations.
Disrupt J20 will also provide jail support for those arrested on Inauguration Day. They have published some non-felony legal support information for those planning on disrupting the entry points.
It is advised to bring something to eat and drink because waits and lines will be long. Driving into Washington will be difficult with many downtown road closures beginning Thursday, Jan 18. Public transportation is recommended.
This post is being continuously updated.