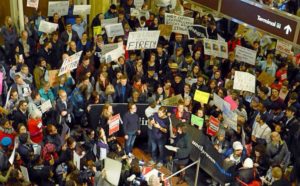 More than 1,000 people gathered at Reagan National Airport, across the Potomac River from Washington, DC, on Feb. 1 to express their opposition to President Donald Trump's executive order cracking down on immigrants and refugees.
For nearly a week, protests against the order have occurred daily at airports across the United States. Trump's executive order halts refugee admissions for 120 days and bans entry to the U.S. for citizens of seven predominantly Muslim nations. But federal judges issued issued temporary stays, and the future of the executive order will very likely be determined in court.
"We are here tonight to send a clear message to Donald Trump and his administration that we will not tolerate discrimination, bigotry and hate," Firas Nasr of Werk for Peace said at the rally. Nasr, an Arab American who grew up in D.C., stressed that he and others across the nation are offering "open arms for refugees, for immigrants."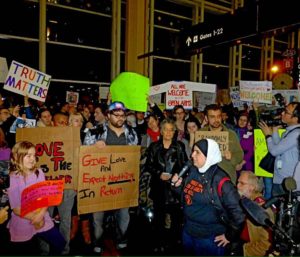 The sweeping order applies to nationals of seven countries, including, Lybia, Iran, Iraq, Somalia, Syria, Sudan, and Yemen, whether they have green cards, visas or hold dual citizenship with the U.S. Issued on Jan. 27, the executive order caught many travelers by surprise, stranding them at international airports and making those arriving in the U.S. subject to detention and deportation.
National Airport (DCA), located in Arlington County, Va., only receives commercial international flights from nations — primarily Canada — where there are U.S. Customs and Border Protection pre-clearance facilities. No other international commercial flights come through the airport. Protesters and volunteer lawyers also have converged on Dulles International Airport, located about 20 miles west of DCA, and Baltimore-Washington International Airport, located about 40 miles north of DCA, in recent days to denounce the Trump administration's deportation order and detention of immigrants.
Protesters Gather at 'Busy Thoroughfare' for Congress
The rally organizers chose DCA as a protest site to highlight the racial profiling that occurs against Muslims at all airports across the U.S., not just international ones. The organizers emphasized they want to maintain a high-visibility presence in a place that is a "busy thoroughfare" for members of Congress and policymakers.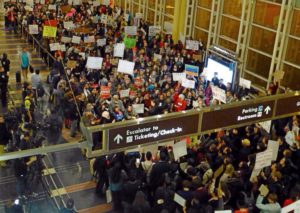 "Airports have served as places of fear and oppression for Muslims, immigrants, and refugees for many years, and the recent executive order continues this tradition," Aniqa Raihan, lead organizer of the event, said in a statement. "We are gathering at the airport that is used most regularly by members of the U.S. Congress to show our support to these communities in their struggle against Islamophobia and xenophobia."
DCA officials set up an area in the main concourse of Terminal B for the protest. Police from several jurisdictions, including the Washington Metropolitan Airports Authority, the Department of Homeland Security and the Virginia State Police, stood guard on the perimeter of the protest. The protest was peaceful and no arrests were made.
At the rally, speakers pointed out that many of the people seeking entry into the United States are from countries where the U.S. military has invaded or bombed. Another speaker noted: "We know we are much more dangerous to these countries than people in these countries are to us."
Other speakers said they fear the ban could spread to other nations and are preparing to step up their opposition in case the Trump administration refuses to back down.