Washington, DC–The LGBTQ community held a dance party and kiss-in in front of Trump International Hotel, saying they were not going to tolerate its bigotry, racism and oppression of minority groups. They had choice words for the Trump Administration, calling several cabinet members out on their record and conduct towards minorities.
"We are not going back into the closet," said Sarah Massey, an LGBTQ organizer. "This Administration has been one of the most hateful, racist, misogynistic ever seen, and DC's LGBTQ community is not going away quietly," she said.
Over 100 took part in the community action outside the Trump Hotel, which has been turned into a magnet of protests ever since the November 8 presidential election.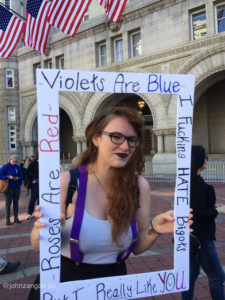 They danced and held a kiss-in while popular music played on a sound system. Hundreds watched and photographed the joyous assembly while police stood far back. Activists held signs and encouraged others to join the dance. One held a cardboard frame condemning bigotry which participants could be photographed.
"LGBTQ rights are human rights, and right now we have an administration that believes LGBTQ people do not deserve equal rights," said Kate Perino, an organizer with the Socialist Snack Club. The President's choice of Mike Pence as his Vice President, former Governor of Indiana, who signed into state law the Religious Freedom Restoration Act, is seen as a threat to LGBTQ rights, according to Perino.
Trump's controversial choice of Jeff Sessions to lead the Department of Justice, leading to an historic split confirmation vote in the Senate, broken by Vice President Mike Pence, is also a figure seen as a set-back to LGBTQ rights. In 2009, Sessions voted against passage of the Matthew Shepard and James Byrd Jr. Hate Crimes Prevention Act. However, both acts were passed in 2009. Sessions voted against the acts because he felt the legislation wasn't necessary.
The Socialist Snack Club handed out food and water to protesters to support their action. The local LGBTQ community plans more actions in the future to draw more attention to the threat to rights they have gained since their movement began in 1969 with the Stonewall riots.
This slideshow requires JavaScript.