A pro-Trump rally at the Washington Monument drawing nearly 400 supporters was trolled and heckled by anti-fascist counter-protesters on March 4. Even though as many as 25 U.S. Park Police officers kept opposing sides apart, there were still several skirmishes at the rally, during a march and at the White House. There were no arrests or injuries reported, though one woman was pushed to the pavement.
The DC Trump rally and march were part of a nationwide call to drum up support for the administration which has come under increasing fire over allegations its campaign staff contacted Russian government officials before the election. A new poll measured the highest disapproval rating ever for a new administration barely into its third month. Trump garnered a 54% disapproval rating, while his approval rating bottomed out at a record low of only 44%, according to the CNN/ORC International Poll.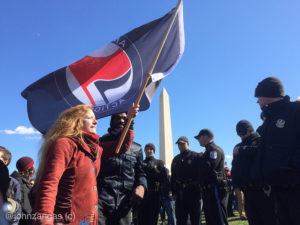 Pro-Trump supporters set up a stage where dozens of speakers endorsed Trump policies such a Muslim registry, building a border wall to keep undocumented people from crossing the border, and reducing government regulations on the environment and businesses. But counter-protesters disrupted the rally and attempted to overpower it with chants and large signs, which drew the ire of Trump supporters. Counter protests were critical of the administration's hate speech rhetoric, and its plans to roll back public education, environmental protections, and efforts to deconstruct government.
"The United States has become a country of people divided on hate speech," said Tighe Barry, a counter protester standing against Trump policies. "We're saying no more racism, no more hate speech, and we want to bring this country together around peace and justice for everyone that includes the undocumented, people of color, and people that are less advantaged," said Barry.
Barry took issue with a new budget and plans to increase military spending by $54 billion, while all other discretionary spending categories are cut. "We want a government that is humane, we want a government that's just. If we're not humane and just, we can't run around the world killing people of color and deporting people who are running from the damage we cause," he said.
After the Trump rally finished supporters walked to the White House as Antifa followed. It was then that police were unable to keep sides apart and several confrontations took place.
Once they arrived at the White House, Trump supporters joined another Pro-Trump rally already in progress and there were no more confrontations.
In Berkley there were reports of several injuries in clashes between pro Trump and counter Trump protesters. Several were arrested as Berkley police moved against the violence.