Tipi Camp, Washington DC
Indigenous elders held a water ceremony inside a Tipi as dozens sat quietly on its floor. Indigenous women led with a song in their native language and beat hand drums while visitors held hands and circled them. Tribal elders and children led a march and ceremonial dance at the EPA. Hundreds who came from South Dakota traded stories around camp about the battle against the oil pipeline at Standing Rock and the year long struggle to stop it.
As night fell a sacred fire was built in an open iron cast grill with a barricade around it for relatives to warm their hands. The indigenous refer to everyone in their midst in this way to let them know all are welcome. Relatives were asked politely not to photograph the ceremonial fire. They respected the request.
High above a moon rose above the tipi tops, which were put up with plain canvas, connected by thin tree trunk poles and long ribbons tied to their ends. More songs and circle dances followed as a golden sun fell through shadows of poles of an unfinished Tipi. The only colors here are the grey-blue hues of daylight and yellow-gold hues of sunset.
A Standing Rock Sioux flag billowed in the cool breeze with a sign nearby: "We Exist, We Resist, We Rise".
It was the third day at Tipi Camp as hundreds more arrived on buses from around the country, swelling its numbers. More are expected for Friday's march from the Army Corps of Engineers to the White House.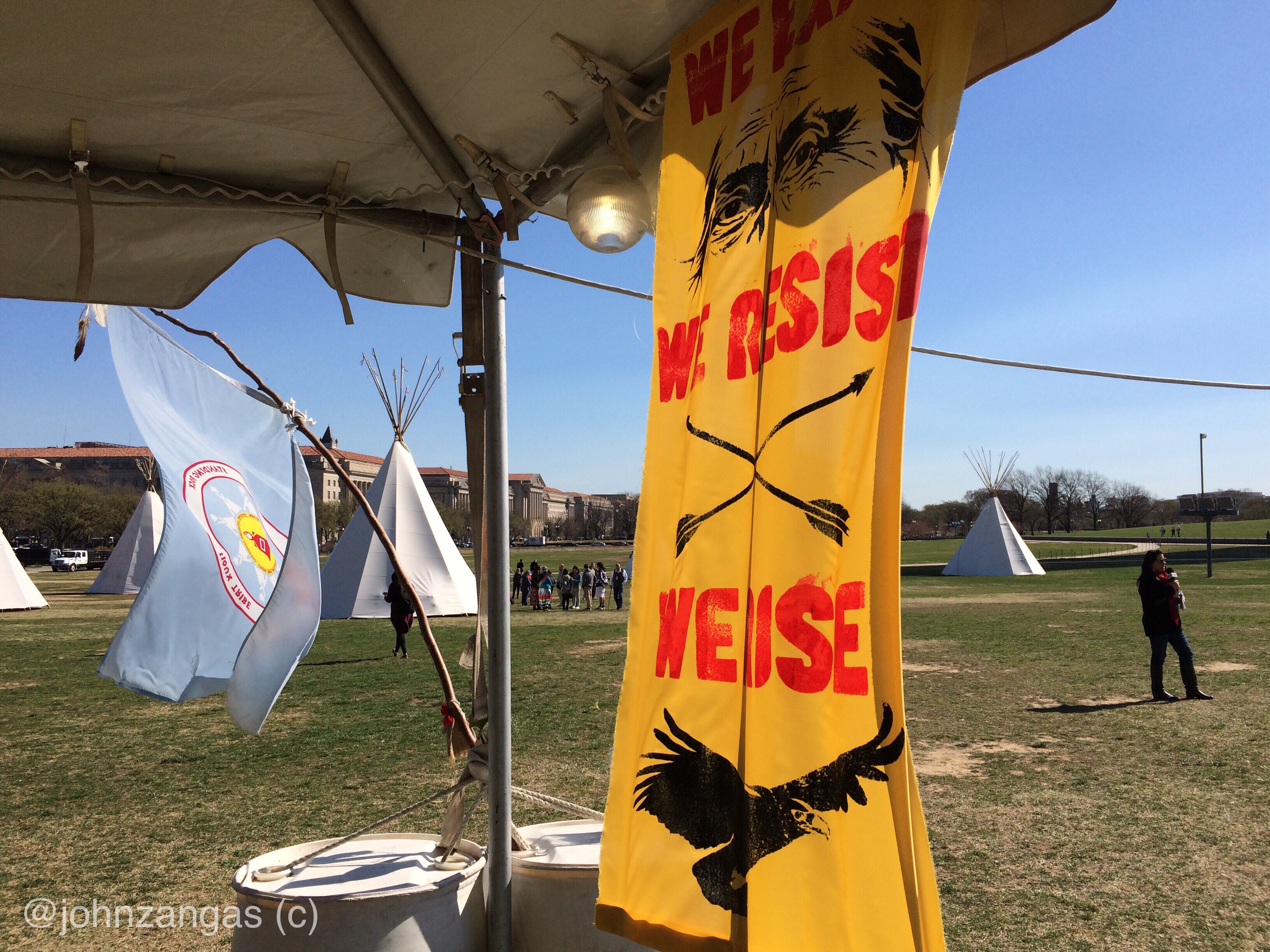 Tipi Camp has already drawn thousands curious about why the tribes have come to D.C. Many have already learned that "Mni Wiconi" is the Lakota expression meaning "Water Is Life" but many more will know it by tomorrow. It is painted in black letters on two Tipis-one in English, another in the Lakota language.
There is symbolism in everything the tribes do and say. The Dakota Access Pipeline is called the Black Snake. It threatens the Missouri River. Water is life. They're here to remind us that.
None of the other Tipis are painted with any markings at all. It seems to mark the seriousness of the task ahead: to protect what is left of the environment.
The environment is under threat from mankind's unquenchable thirst for its resources. Water is life. Without it nothing can survive. Mni Wiconi.