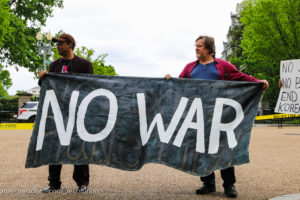 Washington, DC–About a dozen protesters staked out a spot across from the north gate of the White House on Wednesday prior to an unprecedented meeting they believed might be a prelude to a U.S. attack on North Korea. All one hundred U.S. Senators had been summoned to the White House by President Donald Trump to be briefed by high-level military and intelligence officials and the Secretary of State this afternoon.
Usually the President, in a nod to the Constitutional authority of Congress, goes to the legislative branch, making today's White House briefing unprecedented.
In recent weeks, North Korean ballistic missile tests have led Trump to threaten and insult the country and its leader and send three aircraft carrier groups within striking distance. Following the announcement of the Senators' briefing at the White House, North Korea explicitly threatened nuclear war. China and the U.N. have admonished both North Korea and the United States and made pleas for restraint.
The purpose of the small protest, organized by activist group Popular Resistance, was to make sure Senators heard objections to possible military action against North Korea.
Brian Becker of ANSWER Coalition said that people on the Korean peninsula want peace but those in power thwart negotiating a peace treaty. He contends that North Korean leader conducts ballistic missile tests in "self-defense" when the country is provoked. "Of course the U.S. is the provocative party here," he said.
He also pointed out that "it's not just Trump" who wants war, but both Democrats and Republicans who acquiesced to a meeting at the White House.
Medea Benjamin, co-founder of CODEPINK: Women for Peace, said she learned from her travels to the Korean peninsula there is a "tremendous yearning" for re-unification. She read from a letter signed by women from 40 countries asking for a peace treaty.
The highly unusual 14-minute meeting between two branches of government triggered heightened security and put Secret Service officers on edge.
Another dozen protesters tried to join the others at the protest but were blocked, according to Dr. Margaret Flowers, one of the organizers.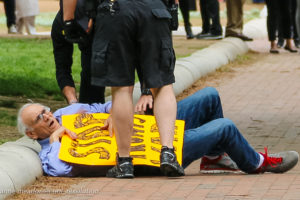 And, when an elderly man attempted to join fellow anti-war protesters, he was knocked to the ground by Secret Service officers. The man, identified by acquaintances on the scene as Baltimore resident Richard Ochs and estimated to be 75 years old, lay on the sidewalk in Lafayette Park in front of the White House, clutching a sign while officers spoke to him at length. He was then escorted out of what one Secret Service officer called "a restricted area."
Although Pennsylvania Ave. had already been cordoned off, Secret Service officers threatened to arrest the small group of protesters when they refused to move from the southwest corner of Lafayette Park (video). They didn't lift the order but allowed them to stay. One officer photographed all the protesters.
Senators arrived at a different gate by two charter buses and a shuttle bus. It wasn't apparent whether the lawmakers could hear the protest. The empty buses pulled in front of the north gate, where the protesters were located, and blockaded it.
A joint statement issued by Defense Secretary James Mattis and National Intelligence Director Dan Coates softened the recent rhetoric, indicating that the U.S. "remains open to negotiations." But Democratic Senator Christopher Coons told reporters after the White House briefing that thorough "planning and preparing" was going into military options.
Yesterday, a U.S. Navy strike group led by nuclear aircraft USS Vinson began carrying out exercises with Japanese warships near the Philippines. Also yesterday, North Korea deployed a large number of long-range artillery units in live-fire exercise to mark the 85th anniversary of its military's founding.
This slideshow requires JavaScript.