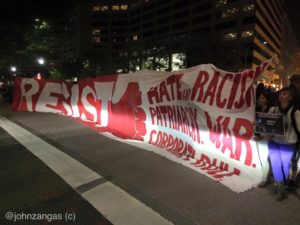 Washington, DC–Indigenous people held a nighttime Round Dance in front of Trump International Hotel Thursday night as a prelude to the People's Climate March. It was organized by the Indigenous Environmental Network and joined by many Indigenous groups and supporters.
Representatives of Indigenous groups spoke about their environmental efforts to fight fossil energy projects such as the Keystone XL and Dakota Access Pipelines. They plan to be among those out front of the Peoples Climate March on Saturday.
Tribe elders also spoke about their efforts to fight against a proposed roll back of environmental regulations presently being promulgated by the current administrator at the EPA.
The public was invited to join in the Round Dance and join hands with indigenous People. As the circle grew, about 300 moved off the sidewalk and blocked Pennsylvania Avenue.  They repeated a well known Lakota language chant, "Mni Wiconi", meaning "Water Is Life". They stayed in front of Trump International Hotel for about two hours.
A light show projection beamed messages about the Climate Movement on the face of the Old Bell Tower, a promenent feature at the Trump Hotel. It was engineered with a computer and light projector by the Action Lab.
President Trump signed an Executive Order last week, green lighting deconstruction of all regulatory standards which protect water, land and air, in favor of oil and gas company interests.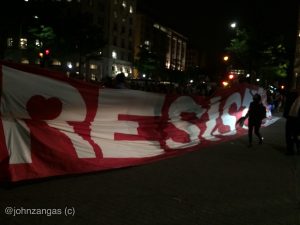 The rollback has spurred environmentalists into action from groups across the country.  Sister marches are planned Saturday across the US in over 200 cities.
In Washington, DC a late afternoon 'human wave' action is to be held at Trump Int'l Hotel on Saturday afternoon at 5 pm, following the Peoples Climate March.
DC Media Group will cover the march and human wave action at Trump Hotel and post a report later in that day.
Events Scheduled For People's Climate March
Saturday, April 29, 9:00-10:00 A.M.: Line up for march at 4th & Constitution. Join one of seven groups in the lineup. (See lineup map).
Saturday, April 29, 12:30 P.M.: March begins along Pennsylvania Avenue route to White House. There two march routes at the 15th & Prnnsylvania Avenue intersection. Marchers will split-north route will take walkers past Lafayette Park (Location of Peace Vigil). The Southern route will take walkers toward the Washington Monument. Walkers will surround the White House. (It is likely that marchers will pause for a period outside the Trump Int'l Hotel)
2:30 P.M. (estimated time):
March activities end; proceed to Washington Monument.
3:00-4:00 P.M: Washington Monument
Speakers will deliver informative talks on the growing Climate Movement. Participants regroup and share strategies.
5:00 P.M.: Human Wave Flood Trump Int'l Hotel
Meet at 5th & Constituion, a block away from Trump Int'l Hotel. Organizers have not officially released any details about this 'human wave' event but word is that it should be…interesting.
DCMediaGroup will update this list as more information is received.
This slideshow requires JavaScript.