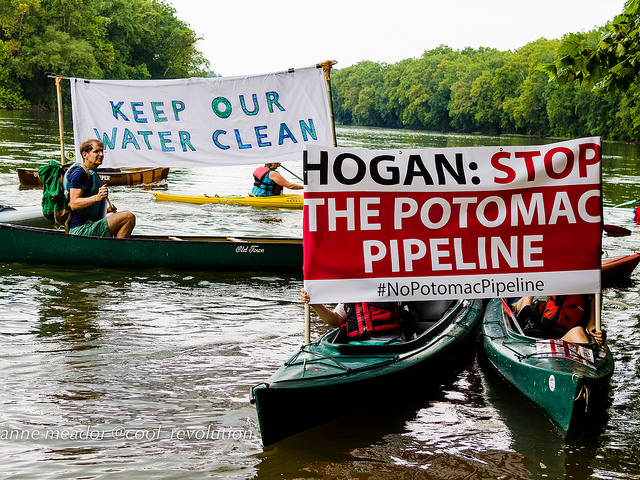 Greedy pipeline companies in league with complicit government officials are the driving force behind two gas pipelines intended to deliver Pennsylvania gas to the Eastern Panhandle of West Virginia, opponents contend.
On August 11, environmental advocacy group Chesapeake Climate Action Network (CCAN) hosted a press conference on the Potomac River's banks in Sharpsburg, Md., to highlight the adverse consequences of constructing two interconnected gas projects affecting western Maryland the Eastern Panhandle of West Virginia. TransCanada's Potomac Pipeline (formally the Eastern Panhandle Expansion) and Mountaineer Gas's distribution line would transport fracked gas from Fulton Co., Pa., to Morgan Co., W.Va. For most of the summer, opponents of the pipelines and communities affected by them have been holding weekend camp-outs and events along the Potomac to raise awareness about them.
They believe TransCanada's plan to drill under the Potomac River poses grave risks in case of accidents. They displayed their message to protect the water on the river itself: a flotilla of about a dozen kayaks paddled downstream toward the gathering at Taylor's Landing, holding aloft banners reading, "Keep Our Water Clean," and "Hogan: Stop the Potomac Pipeline."
The Right to Bulldoze Property
The purpose of the TransCanada pipeline is to supply gas distribution in the Panhandle by Mountaineer Gas, which, they say, is bullying West Virginia farmers and landowners into giving up right-of-way easements.
One family refused to give up their land on their farm, and Mountaineer Gas took them to court. The company won and gained the right to use the legal process called eminent domain, the expropriation by government of private property for public use.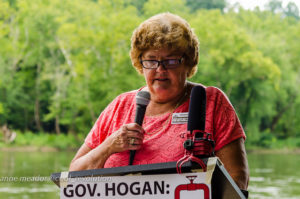 Patricia Kesecker spoke at Friday's press conference at Taylor's Landing with the kayakers floating behind her. "Eminent domain is a process meant to be used for public good. No good will come [of] this pipeline," she said.
She has found no support from her elected representatives, who believe that gas supply in the Panhandle will attract industry and jobs. One Morgan County commissioner, she claims, even tried to broker a deal between her family and Mountaineer Gas. "One particular commissioner told our family, 'Well, just go and sign and try to get a good deal,'" she said. "They even asked me to come behind closed doors to meet with him and the gas company. I do not do 'behind closed doors.'"
She went on to condemn "the eminent domain culture that's alive and well in West Virginia," and she warned other landowners to look out. "Unfortunately, over the last several decades, we the people of West Virginia have put politicians into local, state and federal government who do not support our rights as independent landowners. Instead, they represent the corporations that want to damage and take our family farm and livelihoods," she said.
Kesecker reasons that after the first phase of the pipeline is built, Mountaineer will need more easements to reach customers. "This means that multiple gas lines will run through many other Eastern Panhandle yards, fields and streams. The Kesecker family will sadly not be the last family in the Panhandle that a judge awards Mountaineer Gas the right to bulldoze property," she said.
Guaranteed Profits
Tracy Cannon of Eastern Pipeline Protectors also railed against West Virginia legislators who support the Mountaineer Pipeline and had on several occasions publicly mocked them. One Morgan County Commissioner, for example, accused pipeline opponents of living "in fantasy land" at a recent public meeting.
"Why do some people want this pipeline so bad?" Cannon asked. "Because future generations? No. Because money."
She cited a West Virginia law passed in 2015 which makes pipeline investment risk-free. "Gas companies in West Virginia can get paid up front to build a pipeline," Cannon said. "They don't have to wait to start making money when operational or worry about turning a profit. They can raise customers' rates before they even start building it."
They get a boost from federal regulators too, she said, which typically allow a 14 percent return on investment. "This tells me that the parent company of Mountaineer Gas, IGS company of Tulsa, Ok., could cash in on this project in a big way," she said. "In such a pipeline-friendly environment who wouldn't build a pipeline? It would almost be financially foolish not to build one."
Does It All Come Down to Maryland Governor Hogan?
With West Virginia legislators on board with the Mountaineer Pipeline, people are looking to Governor Larry Hogan of Maryland, who has the power to stop both pipelines by denying one of them a crucial permit.
"Gov. Hogan has to finish the dam," said Maryland state senator Richard Madaleno (D-18). "I'm used to watching him do half measures, and it's time for him actually to do the full measure, and that's complete the dam, and say no to this pipeline."
Madaleno was referring to Gov. Hogan's surprise signing of legislation last March banning fracking in the state. The bill, however, doesn't prohibit gas infrastructure like pipelines, compressors station or giant LNG terminals like the one under construction in southern Maryland.
"While we have protected the Maryland land against fracking, we are still at great risk from all the fracking that goes on in West Virginia and Pennsylvania," Sen. Madaleno said.
He said that he was especially concerned by the location of the Potomac crossing, an area of "fragile and sensitive" karst geology. Recently, hydraulic direct drilling through karst to lay pipe has punctured aquifers, contaminating wells and drinking water sources in Pennsylvania and Ohio and caused landslides and road collapses. Inadvertent returns of drilling mud have also fouled streams and wetlands.
"As we know, pipelines fail, pipelines leak. We're putting it right where it is potentially most dangerous, where pipelines have failed in other states," he said. "Why do that and risk all of the drinking water for the national capital region and the city of Hagerstown? It's just not a smart thing to do."
This slideshow requires JavaScript.