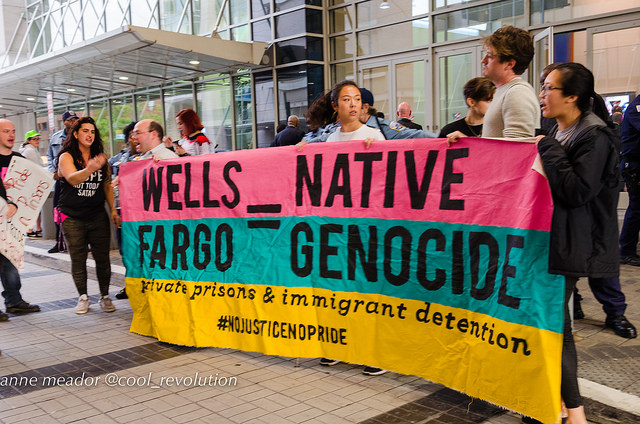 Trans and queer activists blockaded entrances on Saturday evening to the Washington Convention Center where Human Rights Campaign held its annual gala dinner. Some activists chained themselves to doors while others obstructed them with banners and a faux coffin labelled "RIP."
The activists from No Justice No Pride (NJNP), Trans Woman of Color Collective, and GetEqual object to HRC's partnership with Wells Fargo. The financial institution was the primary sponsor of this year's dinner.
Wells Fargo invests in private prisons, finances pipelines which adversely affect Native Americans and engages in predatory lending practices. When HRC invites Wells Fargo to sponsor its premier event, it allows it to do "PR damage control" at the expense of the LGBTQIA+ movement, according to Drew Ambrogi of NJNP.
Those attending the gala dinner, dressed to the nines, were escorted by security into the building. Some quickly swept by activists trying to hand them flyers, while others were receptive to learning about why they were protesting.
Featured speakers at the event were former Secretary of State Hillary Clinton, Senator Kamala Harris and Amazon CEO Jeff Bezos. Other sponsors included weapons manufacturers Northup Grumman and Lockheed Martin and union-busting retailers Amazon and Walmart.
NJNP previously blocked the annual LGBTQIA+ parade last June over what they claim were issues related to a lack of diversity on the Capital Pride Board, police participation in the parade, and sponsors involved in oppression of LGBTQIA+ communities, namely in minority communities.
The blockade tactic proved effectively successful in shutting down the parade in four key places for several hours and forced organizers to reroute the parade at the last minute. There were no arrests during the June blockades although DC police were on the scene monitoring the blockade for the entire afternoon .
"In June, at the Pride Parade, we targeted Capital Pride's willingness to sell our communities out to harmful corporations. Today, we're targeting HRC's willingness to do the same," said blockade organizer Emmelia Talarico. "These actions are microcosms in a broader struggle. For decades, the LGBT movement has cast aside the most marginalized in pursuit of 'equality' for the most privileged members of our communities."
This slideshow requires JavaScript.
SaveSave
SaveSave
SaveSave
SaveSave
SaveSave
SaveSave
SaveSave
SaveSave