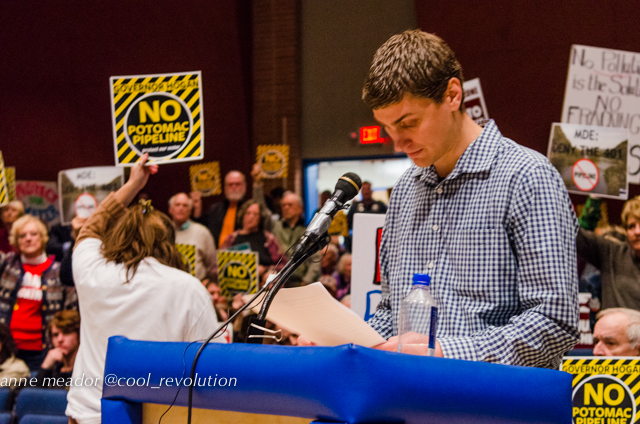 A Maryland state agency will continue hearing testimony on the permitting of a TransCanada pipeline at a later date to allow dozens of people to speak who weren't able to on December 19 because of time constraints. The Maryland Department of the Environment is weighing whether to grant oil and gas giant TransCanada Corp. a wetlands and waterways permit for the Eastern Panhandle Expansion, also known as the Potomac Pipeline.
Time and place have not yet been confirmed for the continuation of the hearing, but dates in January have been considered, according to Paul Busam, MDE project manager for the permit application. The location will probably be at the MDE offices in Baltimore. Busam did not comment on whether the continuation would delay the agency's decision on the permit, now March 15.
Several hundred people filled the high school auditorium in Hancock, Md. to deliver comments on the controversial gas pipeline project and to convey their support or opposition. Beforehand, about 150 people gathered outside holding signs, singing and making statements to the press warning of risks they believe the pipeline poses.
"Pipelines like this cause downward spirals in our communities," said West Virginia resident Paula Jean Swearengin, who is running for U.S. Senate. "Often times the jobs are outsourced, and the people's land, water, communities and local economy suffer greatly. West Virginia's valuable drinking water supply has already taken a hit from fossil fuels, whether it be coal, fracking or pipelines. West Virginia doesn't need another hit and we hate to see Maryland go down the same path."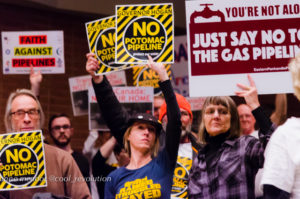 It appeared that the vast majority of those attending the hearing opposed the pipeline. Among the minority supporting it were about 25 Laborers' International Union (LIUNA) pipeline workers who sat in a block wearing orange t-shirts. LIUNA has thrown its considerable weight behind pipeline construction around the country.
Eastern Panhandle Expansion Project Manager Duje Tomic got a bruising reception when he made the case for his company and the pipeline project. As he took the podium, at least three-quarters of the audience silently stood up holding signs which said, "No Potomac Pipeline," "MDE: Deny the 401," and "TransCanada: Not Our Home." Many of them turned their backs on him.
The crowd booed and hissed when Tomic put a positive spin on TransCanada's safety record. "We understand our neighbors have concerns about pipeline safety and the potential for environmental impacts as the result of pipeline operation," he said. "We know about these things because TransCanada has been in this business for 60 years and operated 5600 miles of interstate natural gas pipelines and delivered about a fourth of all the natural gas consumed in North America. … We have the construction and operating expertise to build and run our pipelines safely and efficiently."
There were 21 incidents in the first year of operation of TransCanada's Keystone pipeline and 62 deficiencies in their operation of it. In mid-November, the pipeline spilled 210,000 gallons of crude oil in South Dakota.
Many West Virginia residents came to the Maryland hearing and made strong objections to the pipeline because of its impact on them. The Eastern Pipeline Expansion would connect with the proposed Mountaineer Gas distribution line. Patricia Kesecker said portions of her farm will be seized by eminent domain for the distribution line. She will still have to pay property taxes and will be liable for damages. She fears for her safety after a gas pipeline explosion killed an Illinois farmer and his son after a tractor pulling a tilling plow got stuck. She will be back in court on December 22 trying to reverse a decision in favor of Mountaineer Gas.
Brent Walls of Upper Potomac Riverkeeper pointed out what he considers to be a fatal flaw in the application. "You must consider impacts on the West Virginia portion of the project," he said. "There are just as many risks with Mountaineer Gas to Maryland waterways. Stand back and consider everything. You do not have enough information to make a safe decision."
In the first two hours of the hearing, only two people–the economic development director of Morgan County and a West Virginia state senator–stood up in support of the project. When the senator, Charles Trump, pronounced his name, many giggled in the audience. They also booed and hissed when he said he had long worked to bring gas to the Eastern Panhandle. He believes that it would lower unemployment.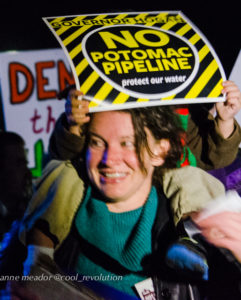 Some disagreed that gas distribution would create jobs and argued that the Eastern Panhandle was already experiencing unprecedented economic growth without gas. West Virginia resident Tim Ross had a more blunt response. "There's one thing that trumps jobs. That's water, clean water," he said.
A few speakers came from Washington, DC to deliver news that just that morning, DC Council unanimously passed a resolution urging Maryland's governor to reject the pipeline. John Qua says an accident at the Potomac River crossing threatens the drinking water of 6 million people in and around the District. "But DC has no say in this pipeline," he said.
The Potomac River is the source of water for thousands of people in the region around Hancock. Dan Divito, Washington County Deputy Director of Water Quality, recently told the Herald Mail that the river is "the major concern." Boonsboro Town Council, Washington County Board of Commissioners and DC Council recently sent letters to Maryland Governor Larry Hogan regarding their health and safety concerns about the pipeline.