A jury found six defendants not guilty on all counts in the first jury trial of "DisruptJ20" inauguration day protesters. Jennifer Armento, 38; Michelle Macchio, 26; Oliver Harris, 28; Brittne Lawson, 27; Christina Simmons, 20; and Alexei Wood, 37, faced seven felony charges each—including felony rioting, conspiracy to riot and destruction of property—and could have been sentenced to decades in prison. The trial of the journalist, two street medics and three protesters spanned four weeks.
The prosecution utilized vast archives of video footage it had amassed of before, during and after the protest from undercover agents and some of the defendants themselves. All the defendants were initially charged with felony inciting a riot, but Judge Leibovitz eventually threw that charge out. The prosecution conceded up front that it could not tie any of the defendants directly to broken windows and overturned newspaper boxes.
Independent media journalist Alexei Wood live streamed the protest as it wound 16 blocks downtown near K Street. The prosecution asserted that he participated in rioting because he used protest terms such as "black bloc" and "kettle."
Oncology nurse Brittne Lawson was at the protest working as a medic to render first aid if anyone was injured. She was also caught in the kettle. Prosecutors claimed that she was "prepared for war" because she carried gauze in her first aid kit. Her attorney argued she was not involved in property damage or injuries allegedly suffered by police officers.
Trials will continue in 2018 for 188 more defendants still facing charges from events on January 20. The verdicts could prove to be a setback to government prosecutors, but the U.S. Attorney's Office for the District of Columbia released a statement hinting that it will not back down on the aggressive prosecution it has pursued over the last year. "In the remaining pending cases, we look forward to the same rigorous review for each defendant," the statement said.
Dane Powell, 31, previously accepted a government deal in July and pleaded guilty to two charges, felony rioting and felony assault on police officers. In addition to a 36-month prison sentence, all but four month suspended. He  has already served his prison term and been released.
The #J20 Inauguration Day Protests
Thousands of police had been brought in from other agencies and from other cities to augment security and support the DC Metropolitan Police force during the inauguration.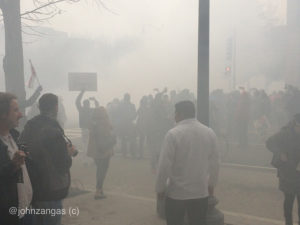 Over 300 protesters, dressed all in black, gathered at McPherson Square in the early morning hours of the day Donald Trump was to be sworn in. A large white tent with refreshments and an information desk was positioned at the south end of the park to support those who had traveled from other states. Several people propped up a sign reading, "Make Racists Afraid Again," and many asked not to be photographed. Others carried signs reading "No Fascism," and some were "armed" with cameras and cell phones.
Around 8 am the "black bloc" contingent left McPherson Square for Scott Circle to rendezvous with other protesters for what was billed as an anti-fascist, anti-capitalist march. Shortly thereafter, the group snaked its way around the business district for sixteen blocks. Rocks were thrown and windows were broken at a McDonald's and two Starbucks coffee shops. Police moved in and closed off the protesters at 12th Street between K and L Streets. More than 200 people were caught in the kettle, including journalists, medics, and protesters.
While the kettled protesters were being detained, another group gathered at 13th & K Streets a block away. Near that intersection, a stretch limousine was set on fire. Contrary to police statements, the fire was set long after protesters had been rounded up.
Apart from those already kettled and arrested, more unrest continued near Franklin Square over the next several hours. Police deployed large amounts of stinger grenades, tear gas and pepper spray at crowds. Prosecutors have alleged that rocks were thrown at police.